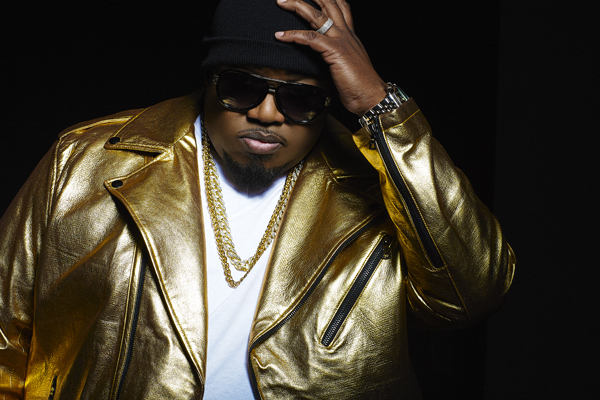 Dave Hollister is a grown ass man. He's been laying it down since before today's R&B newbies were born. Remaining true to his artistry hasn't garnered him pop appeal, but he refuses to be swallowed up by the music industry's thirst.
To us, Hollister will always be the lead singer of Blackstreet. The Chi-Town native has flexed his acting skills in stage plays for the past several years, recently playing his best friend and R&B great, Gerald Levert, in Baby Hold On To Me. This coming fall, Hollister will hit the stage again with Musiq Soulchild, Chrisette Michele, MC Lyte, Raheem DeVaughn and Marsha Ambrosious in Love Jones the Musical.
His new album, The MANuscript is scheduled to drop on September 9th. During a recent bi-coastal tour, Hollister chopped it up with ThisisRnB about several topics including his new album, the special request for him to portray Levert, recording a duet album with Angie Stone, and the advice he received from industry icon, Prince.
Check out the interview below.

ThisisRnB: First, we want to congratulate you on the longevity of your career, you're going on almost 25 years, right?
Dave Hollister: Right, almost 25 years!
ThisisRnB: We're digging the new album, you always bring authentic adult R&B. And you're versatile because you've done gospel too. Are you going to do more gospel albums?
DH: Thank you. I'm a musician. I'm a messenger. I don't let the industry put me in a box. Whatever God puts on my heart to do, that's what I'm going to do. Do I see another gospel album in the future? Not right now. I don't like calling it "gospel," it's inspirational. Gospel is Shirley Caesar, Fred Hammond, Jay Moss. My stuff is more geared to uplifting problems and situations. My first gospel-inspirational album, nobody was doing what I was doing.
ThisisRnB: You're definitely a pioneer in both genres. Tell us about The MANuscript.
DH: With The MANuscript, ladies, this is the record to give your man when he ain't acting right or when you want him to get right or if he wants to get right. It's an album for any woman to give her man or a brother or a cousin and say, "Listen here…I need this from you." I also made this record for men to give to a woman. Like, "I think I'm this dude. If this ain't what you want, I gotta bounce." It was for a dual purpose.
ThisisRnB: This is the 17th anniversary of your debut album Ghetto Hymns. When you think back on that, what was your life like then compared to now?
DH: Awww man, back then, I was basically in turmoil. I was in a relationship that I didn't wanna be in. Everything I sing, I've been through, it's all real. I can't sing or tell somebody else's story. I don't have to be the one to pen the song, but if I've gone through it, then I'll sing it. Nine times out of 10, if I didn't write the song, I will give the producer and the writer a story or a scenario that I've been through and let them go with it. "Baby Mama Drama" was a very real song—all of 'em are.
ThisisRnB: On Chicago '85, you talked about being a "One Woman Man." Are you married now?
DH: Yes, this is my second and final marriage. You should be able to tell the difference in the content of what I'm singing. This record is about love and how to treat a woman and how to be loved because that's where I am. She makes me happy; she completes me. I met her when I had nothing. I took a break from the music industry…and she was there, she held it down. She's bright, she's smart, she makes a n**a save money instead of spendin'.
ThisisRnB: Are there any other ventures coming up? Any movies? Any restaurants?
DH: Yea, we're starting to work more on the TV and film thing. I'm getting ready to do a play called, Baby Hold On To Me, it's the Gerald Levert story. Gerald was my best friend and they have me playing Gerald. If I was in concert, I would bring Gerald onstage and when Gerald was in concert, he would bring me onstage. We were like brothers. The only reason I'm doing this show is because Pops (Eddie Levert) asked me to do it. It's not on tour yet, right now we're just doing spots for the two biggest promoters in the game.
ThisisRnB: So, are you doing a Blackstreet reunion?
DH: Me and Teddy been back together since 2009 … me and teddy, and then we have two other guys. Chauncey is doing his version of Blackstreet and it's terrible … I'm not just hating.
ThisisRnB: Are you touring throughout the summer?
DH: Blackstreet is every weekend until the 1st of August and then my next solo show is August 13th in Boston.
ThisisRnB: Who did you work with on the new album?
DH: It's one main producer, Walter Milsap. Walter was on my Chicago '85 album and now he manages me.
ThisisRnB: Angie Stone is the only guest appearance on the album. Tell us about that.
DH: I normally don't do guest appearances. We are building something. I did a duet on her last album and this record was a continuation. Angie and I are getting ready to do a duet album. We're gonna start working on it in about a month or so.
ThisisRnB: Ohh, that sounds great! How long were you working on the new album?
DH: It only took me 5 days to do this album, from start to finish, from writing to recording. I did two songs per day…8/9 hours a day. It don't take that long if you don't go in there playing.
ThisisRnB: You've had a few label changes. Has it been due to them trying to change you or not maintain your voice?
DH: No, it's the industry today. They're not really doing real deals. I do one album with a label and then I go somewhere else.
ThisisRnB: So, you're not stuck in any long term contracts.
DH: Not gon' happen.
ThisisRnB: What are your favorite songs on The MANuscript?
DH: "Let Him," "Blind," "Creation," and "Ooh Ya Ya" are my top four.
ThisisRnB: Whenever you do a song, we know that it's you. What is your take on today's music? How do you remain true to what you're doing?
DH: It's very easy because you look at the stuff that's going on now, you won't hear it 5 years from now. I don't conform. Even though he's gone now, I had a conversation with Prince before my first album came out. He told me, "Dave let me tell you something. Don't let these people change you. Don't conform to what they say. You be your true authentic self. If you're not yourself they will know it. So, give them you. Don't give them nothing else but you. Don't let them change you." And that's what I'm going to do. I don't care what's going on. This music today, in one word, sucks. It's not real music. Anybody can get on the mic and mumble and it becomes a hit … I ain't going no where, I'mma be right here.
–Interview by Raquelle Harris
Dave Hollister's new album The MANuscript is due out September 9th. Check out the video for the lead single "Definition of a Woman" below.