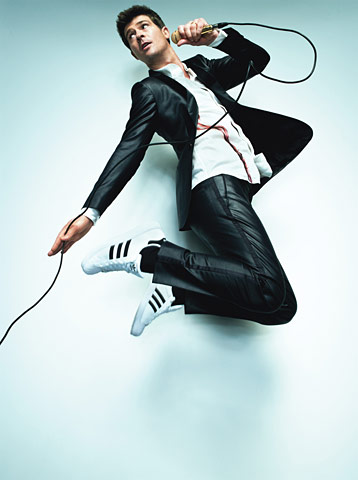 Robin Thicke has made enough progress on his next album to predict a first single this summer with a full-length release in the fall.
"I've got about 15 new (songs)," Thicke told reporters during a Monday conference call to promote his upcoming concert tour with Jennifer Hudson. The big change this time, he said, was working with a variety of different producers rather than helming the set himself.
"I always wanted to be like Prince and write and produce myself," Thicke said. "This time I'm not trying to take all the credit…and work with a lot of the best producers in the business. So my sound is going to be a lot different than anything I've ever done before. The sound I'm getting is brand new for me. It's great."
Thicke told Billboard.com that he's come up with "this crazy new sound" with Jeffrey Bahsker (Kanye West). He's also been working with the Surf Klub, a Pasadena team he calls "a young Neptunes. I've done three records with them that are a new rock, hip-hop, soul sound.
"I'm just really stretching the ceiling a little bit with an open mind, and the results have been wonderful."
The album, Thicke's fourth overall, will come fast on the heels of "Something Else," which was released in September and debuted at #3 on the Billboard 200. He's just released a third single from the album, "You're My Baby," in time for the tour with Hudson which begins March 31 in Albany, N.Y., and wraps up 25 shows later in Biloxi, Miss.
via Billboard