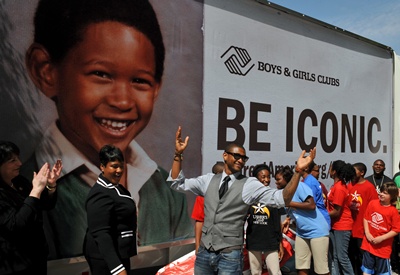 Usher unveiled a new billboard yesterday (April 29) featuring a childhood picture and a call-to-action – "BE ICONIC," in his philanthropic effort to bring awareness to the Boys & Girls Clubs of America. Usher joins 25 other prominent alumni in the new advocacy campaign to help increase public awareness and understanding about the positive impact of Clubs. Usher said,
"Growing up in the Club, I had the chance to experience a lot of positive things; it helped reinforce the values I learned at home including good character, leadership and giving back to my community, my country and my world," said Usher. "It's where I developed my love of singing and performing, received help with my homework, and it's where I found a safe place to go after school."
Usher's theme – "BE ICONIC" – ties to the singer's profile as a multi-platinum selling artist and a positive role model, and will serve as a source of inspiration for all young people to "BE GREAT."  "Work hard to achieve your goals and you can accomplish anything you set your mind to," Usher says while visiting the Brookhaven Boys & Girls Club in Atlanta.
Other Club alumni joining Usher in the BE GREAT advocacy campaign include: Academy award-winning actor and national spokesperson for BGCA – Denzel Washington, Muhammad Ali, Ashanti, Swin Cash, Gen. Wesley Clark, Bill Clinton, Bill Cosby, Cuba Gooding Jr., Michael Jordan, Jackie Joyner-Kersee, Queen Latifah, Mario Lopez, John Mellencamp, Edward James Olmos, Shaquille O'Neal, Smokey Robinson, Martin Sheen, John Singleton, Ruben Studdard, Courtney B. Vance, Mark Wahlberg and Kerry Washington.
On May 14, Usher will be inducted into BGCA's prestigious Alumni Hall of Fame (AHOF) at the organization's 103rd National Conference in Atlanta.
via Singersroom