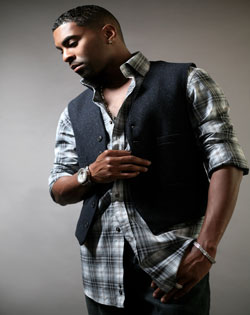 Though every R&B artist enters the game striving to make timeless music, there's something to be said for talent that's time-tested.  Since he hit the scene as a swingin' Bachelor back in '96, Ginuwine has proven himself as one of the genre's greats with a string of classic releases, and established a devoted fanbase always hungry for more of his uniquely seductive vocal stylings.  Having emerged from a four-year hiatus following the release of his fifth LP, G is now preparing to reclaim the game like "Jordan, fourth quarter, in '92."
Ginuwine's forthcoming sixth album,  A Man's Thoughts, may not be his "Last Chance" at returning to the spotlight, but the singer's come this far by bringing his 'A' game to every release and he's not about to stop now.  Set to drop June 23rd, the LP will showcase an artist with a newfound maturity and a renewed commitment to making music both grown and sexy.
In an exclusive interview with DJ "Z," Ginuwine steps into the Booth to discuss how both his personal outlook and the R&B game as a whole have changed since he went Back II the Basics in '05, whether he's had to tone down his stage show to match his more "tasteful" image, and which cuts from his extensive catalog are best suited for wedding rotation.
Listen To The Interview Here,
Ginuwine – A Man's Thoughts In Stores June 23rd