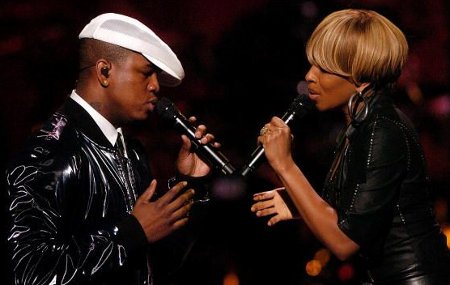 Mary J. Blige and Ne-Yo have signed on to join America's favorite pistol-packing grandma, Madea. The duo, known for their Grammy-winning albums, are reportedly fast at work on an original song set to debut with Tyler Perry's forthcoming film "I Can Do Bad All By Myself".
Set to open in theaters this September, "I Can Do Bad All By Myself" will feature an original song penned by Ne-Yo for Blige in addition to musical performances from Marvin Winans and iconic soul singer Gladys Knight.
Knight, in addition to Blige, also has a leading role in Perry's flick where she will star alongside Taraji P. Henson, Brian J. White, Adam Rodriguez, Fredrick Siglar, and Hope Olaide Wilson.
According to the film teaser, "I Can Do Bad All By Myself" picks up when Madea aka Mable Simmons (Perry), catches a sixteen year old and two younger brothers looting her home. As a result she sends the young thieves off to the only relative they have, their Aunt April (Taraji P. Henson).
A struggling nightclub singer, April (Henson) takes the kids in but wants nothing to do with them, especially since she's deeply involved with a married man who is supporting her. Blige (Tanya) and Gladys Knight fit in with roles as a night club manager/friend of April and neighborhood matriarch respectively.