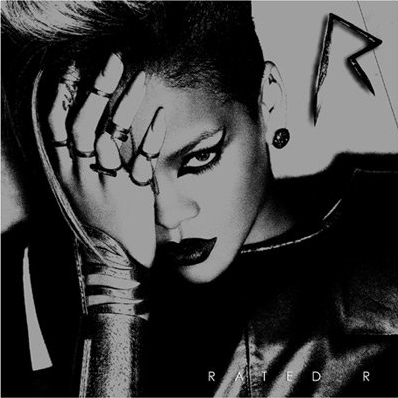 Billboard magazine was recently given the chance to preview and review Rihanna's new album, Rated R. Check out their track by track review below.
After the "Mad House" intro, Rated R takes off with the leaked tracks "Wait Your Turn" and the Jeezy-assisted "Hard," both which feature Rihanna singing tough girl lyrics like, "I'm such a fucking lady" in her Island twang and "the hottest bitch in heels right here" over an epic piano pattern, respectively.
"Stupid In Love" follows. The heartfelt ballad finds Rihanna belting, "I still love you, but I just can't do this / I may be dumb, but I'm not stupid… you don't know what you lost, and you won't realize it till I'm gone / that I'm the one," atop a pulsating beat.
Next up is the bass-heavy, electric-guitar-laden "Rock Star," which features former Guns N' Roses guitarist Slash. Rihanna revels in her bad girl rebellion, crooning, "Got my middle finger up / I don't really give a fuck."
The album's first single, the gritty track "Russian Roulette," follows. "Firebomb" ends with a siren blaring while "Rudeboy" finds her singing about having a sexual rendezvous with her love interest over kick drums.
The will.i.am duet, "Photographs," is one of the album's stand-out tracks, as Rihanna laments over a lost relationship. "I don't want to be stuck in the past but you're all that I had / why couldn't you be the one," she questions over static drums.
Rihanna taps into her bad girl antics on "G4L" (the acronym is short for "Gangster For Life") once again, as she flirtatiously warns, "any motherf–kers want to disrespect / we don't play that shit," over double speed drums. Meanwhile, "Te Amo" caters to Rihanna's international fanbase with its flamenco guitars and handclaps.
The album ends with the bonus track, "The Last Song," but not before the outstanding closer "Cold Case Love," with its escalating production infused with a simple piano pattern, thumping bassline, violin strings and ultimately, electric guitar licks.