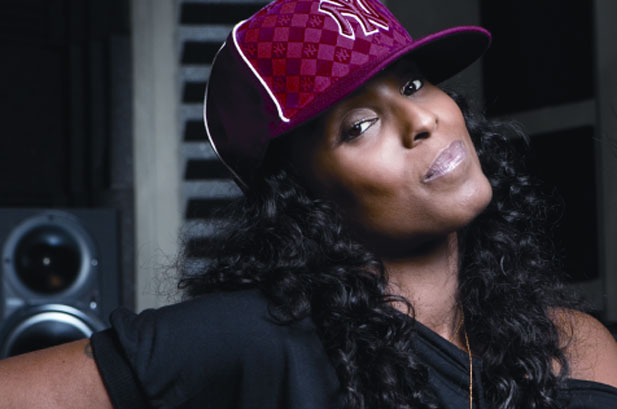 As Jay-Z and Alicia Keys lock up their fourth week atop the Billboard Hot 100 this week with "Empire State of Mind," there isn't anyone as excited about the feat as singer/songwriter/producer Angela Hunte. Along with writing partner Jane't "Jnay" Sewell-Ulepic, the Brooklyn-native originally wrote and produced the track about her beloved hometown.

"I come from the same building where he [Jay-Z] lived, and we knew each other from Brooklyn, but we never worked together. Not in a million years did I think I'd make this hit for him," says Hunte, who actually grew up at "560 State Street," the street address Jay-Z mentions on the track. "I still have no words even for the World Series performance. You get your hopes up with artists but then things happen and the record doesn't make it for whatever reason. But Jay loved the song, it made the album and it sounds crazy."
Hunte created the track with Sewell-Ulepic after the two shared their homesick feelings during an overseas trip. "My writing partner and I were in London, missing home. Her mother was ill at the time and I was sick that summer, and we were just down," Hunte explains. "We said to ourselves, 'we complain so much about New York — about the busy streets, about the crowds and the pushing, about the subway system — but I would trade that for anything right now.' Before we left the hotel that night, we knew we would write a song about our city."

That was in February, and although they wrote the track as simply a way to voice their hometown longing, they secretly sent it to Roc Nation a month later in hopes that Jay-Z would like it and use it. When they received negative reviews about the track, they were convinced it was doomed to the vault.

But then at a summer BBQ, EMI's Jon "Big Jon" Platt heard the track and fell in love with it, realizing "it would be perfect for Jay-Z," says Hunte.

Hunte and Sewell-Ulepic were hesitant, though, being that they had sent the track for consideration already and were shut down. But when a Notorious B.I.G. figure she kept by the computer fell as they played the track for Platt — a statue that had never moved before regardless of how loud they've blasted music, according to Hunte — she realized it was an omen. "We all just looked at each other like, 'if Biggie approves, then, send it to Jay," she says.

The next day, Platt sent it to Jay-Z and he "loved it and recorded it that night," Hunte recalls. "We were just so happy he wanted to honor our work and our production. Two female producers/writers and for him as a rapper to take our song — that's not a combination you see a lot. For him to be so open-minded about it, we just couldn't be any more grateful and thankful."

Jay-Z ended up writing all new verses inspired from the original lyrics and leaving Hunte on the hook. But when Hunte and Sewell-Ulepic were asked if they thought someone else would be more appropriate for the chorus, Hunte suggested Alicia Keys. "She's never done a record with him and she also has my same vocal tone. She made the song sound so close to the original," says Hunte. "She just nailed it and brought it home. It was a great choice."

Hunte got her start as an aspiring singer, but strayed into songwriting as music became more "commercial. I just felt there was no place for me in music at that time," she says. She started going to the studio and studying production alongside mentor and producer Salaam Remi. In 2001, she signed a deal brokered by Remi with EMI and went to Europe to write for the likes of Ms. Dynamite from the UK, Mis-teeq and British R&B singer Beverly Knight, among others. Her big break came when she penned the track "Do Somethin'" for Britney Spears, which appeared in her "Greatest Hits: My Prerogative" compilation, and was released as the second single off the set.

In 2007 she returned to the U.S.and immediately went in the studio with Sean "Diddy" Combs' Danity Kane group, for which she wrote the first single "Show Stopper." The track reached No. 8 on the Billboard Hot 100 chart.

Since then, Hunte's worked with Justin Timberlake, Timbaland and Melanie Fiona, to list a few. She is slated to go in the studio with Young Jeezy, Roc Nation artist J. Cole and up-and-coming rapper H 2-0. Additionally, she is at work on her own as-yet-untitled album, which she describes as a "Pop, electronic set with a dash of gulliness."

Although Hunte wouldn't reveal many details, she says the original version of "Empire State of Mind" will one day be released . "The original is so powerful it's only a matter of time till you hear it down the line," she says.

In the future she hopes to team up with the likes of Sting, Elton John, Miley Cyrus and Corinne Bailey Rae.