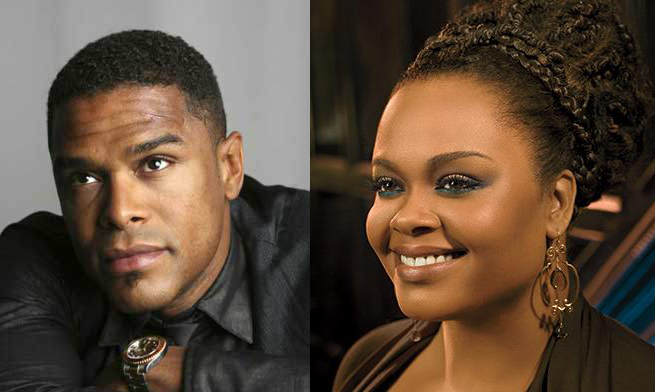 Maxwell & Jill Scott are teaming up to hit the road for a 20 city US arena tour. The two neo-soul stars will kick off the tour this spring, starting May 21st in Cleveland, and continue through June. Stay tuned to LiveNation for additional dates. Follow the jump to read the full press release.
(NEW YORK – February 26, 2010)- Grammy Award winning superstars Maxwell and Jill Scott will kick off their 20-city U.S. arena tour on May 21st in Cleveland with additional dates to be announced through June. Singer and songwriter Maxwell is catapulting off his two recent Grammy Awards and his number one, platinum 'BLACKsummers'night' (Columbia), which dominated year-end critics lists.  Grammy Award winning singer Jill Scott will be performing hits spanning her 10 year career starting from her double platinum Grammy nominated debut album 'Who Is Jill Scott? Words and Sounds Vol.1′ through her upcoming album 'The Light Of The Sun' out Summer 2010.
Last fall, critics lauded Maxwell's energetic, crowd-pleasing performances: The Chicago Tribune commented "He worked his band like Cab Calloway or James Brown, the horns slicing and dicing with Ginsu-knife precision, a Hammond organ taking us to church, the drums peppering everything with syncopated beats. The show had style…Maxwell proved more than capable of taking the abundant personality and intimacy of his theater shows to a bigger stage," The NY Post wrote that "Maxwell became the quintessential soul brother. The singer stepped into a lone spotlight in the dark Garden, half singing, half preaching as if he were possessed by the spirit of Sam Cooke" while The Atlanta Journal Constitution said of his show "Within mere seconds, Maxwell was turning up the heat — running up and down stairs on the set, sliding across the floor."
Triple threat singer, actress & designer Jill Scott has been taking Hollywood by storm and has a busy 2010 ahead of her.  Recently seen as lead role in HBO's critically acclaimed mini series The No.1 Ladies' Detective Agency, directed by the late Oscar winning director Anthony Minghella and Lifetime Movie Network's Sins Of the Mother, she is also prepping two movies, a cartoon series, a new bra for her Ashley Stewart intimate apparel line and new album 'The Light Of The Sun' out Summer 2010. Of her latest 2008 The Real Thing tour, People Magazine commented "Scott is one of those performers who makes everything she touches better. Which is why she has been a sought- after singer on other people's record" while L.A Times agreed "The live show exceeds the album and the energetic singer's playful asides exceed what can be published…her massive band—with its brass section, drums, guitar, bass, synthesizer and trio of backup singers—follow her every lead with a sound that is lush and well-oiled…"
This tour is being produced nationally by Live Nation. Tickets go on sale in select cities at LiveNation.com http://www.livenation.com/artist/maxwell-tickets or http://www.livenation.com/artist/jill-scott-tickets
Details on dates, venues and on-sale information will be announced shortly for tour stops in 20 U.S. cities including: Cleveland, Detroit, Indianapolis, Chicago, St. Louis, Seattle, Oakland, Los Angeles, Dallas, Houston, Atlanta, Miami,Washington DC, Philadelphia and New York.