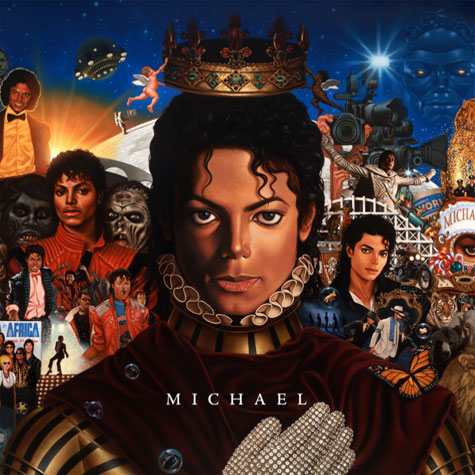 Here is your first look at the track listing to the forthcoming posthumous Michael Jackson album MICHAEL. The project being released by Epic Records along with The Jackson Estate features unreleased material from the late King of Pop. Including the first buzz record "Breaking News," which was premiered this past Monday (Nov. 8th), and created quite a stir when rumors starting circulating that the vocals were not Michaels.
Earlier today we posted a statement from the attorney of the Michael Jackson Estate addressing the allegations and concerns. You can read that here. Although "Breaking News" was the first leak off the album, the official single is "Hold My Hand," featuring Akon. It will be released this coming Monday, November 15th. This track was actually leaked 2 years ago, however the album version will be different, check out the official press release below for details. The album will also feature Lenny Kravitz and 50 cent, who appears on the track "Monster". The excitement, news and rumors over this album are only going to continue to grow everyday until the release on December 14th! Check out the track list, and below you can hear the previous version of "Hold My Hand".
Tracklist
01. Hold My Hand (Duet with Akon)
02. Hollywood Tonight
03. Keep Your Head Up
04. (I Like) The Way You Love Me
05. Monster featuring 50 Cent
06. Best Of Joy
07. Breaking News
08. (I Can't Make It) Another Day featuring Lenny Kravitz
09. Behind The Mask
10. Much Too Soon
New York, NY – The first official single from the forthcoming Michael Jackson album MICHAEL will be released globally on Monday, November 15th at 12:01am EST. The song entitled "Hold My Hand" will be unveiled on www.michaeljackson.com and for sale digitally thereafter.

"Hold My Hand", a duet with Akon, is a song they recorded in 2007. A handwritten note from Michael belonging to his Estate indicated his desire that "Hold My Hand" be the first single on his next project. However, in its unfinished state, the song leaked out in 2008. Akon recently completed the new and final production of "Hold My Hand."

Akon comments, "The world was not ready to hear 'Hold My Hand' when it leaked a couple years ago. We were devastated about it. But its time has definitely come; now in its final state, it has become an incredible, beautiful, anthemic song. I'm so proud to have had the chance to work with Michael, one of my all time idols."

On December 14th, Epic Records in conjunction with the Estate of Michael Jackson, will release the much-anticipated new album MICHAEL. The album contains ten tracks, produced by an esteemed group of producers along with Michael Jackson. While primarily focused on songs that Michael worked on recently, there are also earlier compelling tracks.

MICHAEL is the first release in nine years of new material by one of music's most beloved icons whose artistry continues to touch new generations of fans. The album marks another release under the new agreement between the Estate of Michael Jackson and Sony Music announced in March that continues the label's 35-year relationship with Michael and his music. During that time, Michael sold hundreds of millions of records, had 13 #1 singles and released the pop culture phenomenon "Thriller," which remains music's all-time bestselling album with more than 100 million copies sold worldwide.