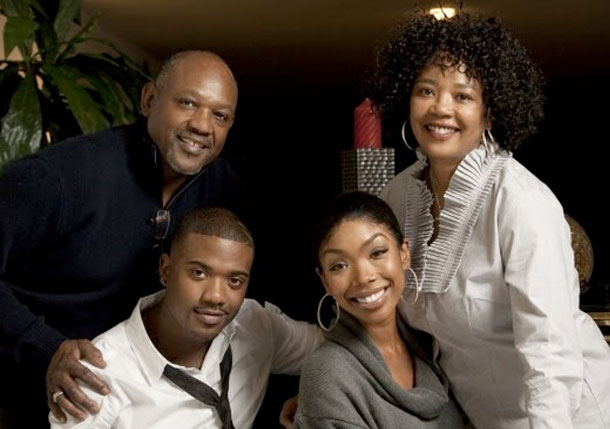 R&B superstar siblings Brandy and Ray J, along with their parents Sonja and Willie Norwood will release their first album together, 'Brandy & Ray J: A Family Business,' via SRR Records in March 2011. Inspired by their VH1 show of the same name, the set includes a collection of duets, collaborations and solo performances, marking the first time the entire family has ever collaborated together.
'Brandy & Ray J: A Family Business' is lead by the first single "Talk To Me," which was released in December, prior to the kick off of season 2 of the reality show.
Previously: Brandy, Ray J & Willie Norwood – Talk To Me

"My Family has always been involved in my career," Brandy says. "Family is truly everything. This project is the beginning of many more family ventures." Adds Ray J, "Brandy and I have been very blessed to have talented parents who were also able to teach us the value of learning the business side of being an artist". Through this project we have shared moments of love, obstacles and a preparedness for future family projects."
Parents Sonja and Willie Norwood are the anchors in this family of gifted entertainers, guiding the successful and versatile careers of Brandy and Ray J.
"I have worked with my family on so many different levels throughout their lives and careers," says Sonja. "To have a project we can enjoy and share will continue to bind us closer together and give us courage to do more as a family."
"I love the idea of molding natural talents into a piece of art," explains Willie, "and being able to work so closely with my family to develop their gifts and love for performing has been such a blessing. Recording with them is a dream come true. It is an album for everyone in the family, for all the times that families get together. It is the music for togetherness, closeness and love–a soundtrack to family life."
Along with the reality TV show and the forthcoming family album, both Brandy and Ray J are expected to release solo projects this year.
The Norwood family album is the first R&B signing to SRR (Saguaro Road Rhythm), the R&B imprint of Saguaro Road Records, an affiliate of Time Life Records that was launched two years ago with a commitment to American music.
via Singersroom