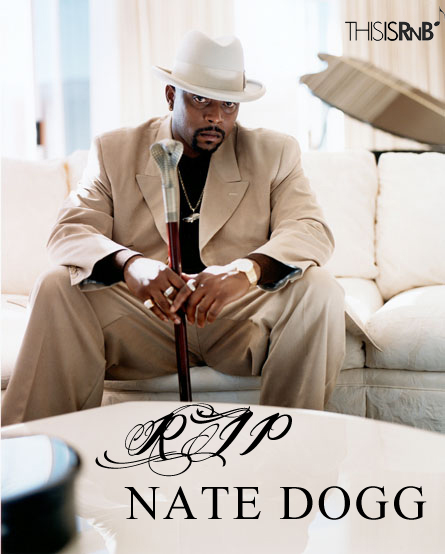 West Coast hook-man Nathaniel Hale aka Nate Dogg, 41, passed away last night after suffering complications from multiple strokes. Long Beach's Press Telegram was first to report the 213 artists death.  I remember back when "Regulate" first hit the New York airwaves, it completely changed my world. It was the first time where the rapper was getting harassed and the R&B artist was the tough guy. It was incredible!
"Hale's near monotone crooning anchored some of rap's most seminal songs and helped define the sound of West coast hip-hop.
Nate Dogg wasn't a rapper, but he was an integral figure in the genre: His deep voice wasn't particularly melodic, but its tone – at times menacing, at times playful, yet always charming – provided just the just the right touch on hits including Warren G's "Regulate," 50 Cent's "21 Questions," Dr. Dre's "The Next Episode" and countless others.
While Nate Dogg provided hooks for rappers from coast to coast, the Long Beach native is best known for his contributions to the West Coast soundtrack provided by the likes of Snoop Dogg, Dr. Dre, the Dogg Pound and more. Nate Dogg was even part of a supergroup" featuring Snoop Dogg and Warren G, called 213.
Nate Dogg also put out his own solo projects but was best known for his collaborations with others.
Last year, Warren G said Nate Dogg was in therapy but needed help.
"Everybody just gotta keep him in their prayers, cause he had two strokes and that's real dangerous. And a lot of people don't come back from that," he said in an interview to HipHollywood. "Cause the game needs him, I need him."
After word of his death spread, tributes poured in to the Press-Telegram web site, where his death was first reported.
Jeff Muro of Cerritos College said, "I wish I could click a "sad" button," and Amen Miller of Seattle wrote, "His soulful voice will never be replaced. The game just lost a very talented vocalist. R.I.P. NATE DOGG"
On Twitter Long Beach music legend Snoop Dogg tweeted, "We lost a true legend n hip hop n rnb. One of my best friends n a brother to me since 1986 when I was a sophomore at poly high where we met."
via Press-Telegram