Rising star Mateo unleashes his anticipated new mixtape "Love & Stadiums", presented by producer Kerry "Krucial" Brothers and Krucial Noise. The singer/songwriter delivers more than expected on the 17 track project, which in typical Mateo fashion consists of original records and unique interpretations of songs such as Kanye West's "POWER" & "Runaway," Lil Wayne's "Don't Shoot Me Down" & "A Milli," Nicki Minaj's "Right Thru Me," and Lady Gaga's "Bad Romance." Guest appearances include Goapele, Pusha T, Kardinal Offishall, Ab-Liva, and Fashawn. This is a mixtape in raw form, a passionate tribute to inspiration and exhibition of Mateo's distinctive artistic talents.
"I don't necessarily want to sing the song over the beat that someone else did—I want to infuse my own style into it," Mateo explained at his mixtape listening session. "I think with R&B music, it can't just be about the beat, it can't just be about the club, its about matters of the heart," he explained to us during our recent sit down.
Find out why Mateo is worthy of all the buzz by downloading his mixtape below.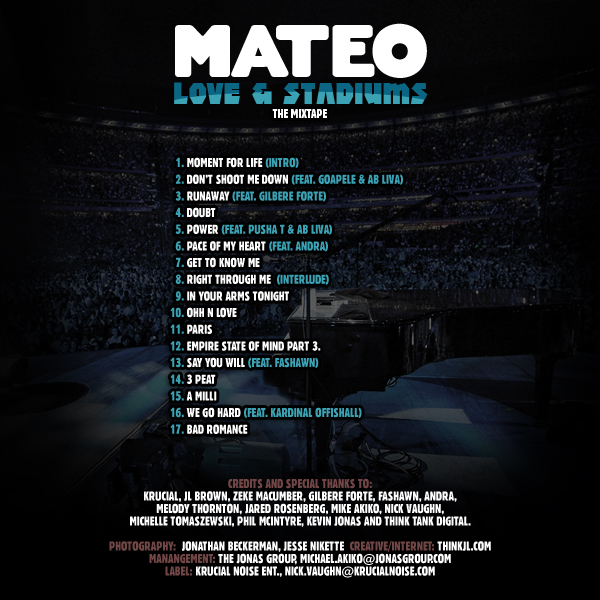 Preview: Mateo – Doubt

Download Link: Mateo – Love & Stadiums (Mixtape)

For More Info Visit MateoOnline.com