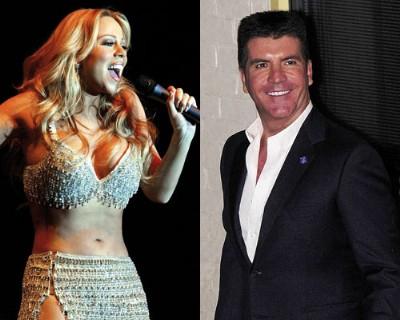 Slowly but surely, Simon Cowell's star-studded "X Factor" cast is coming together. Rumors have circulated for months about who will join the ex-"American Idol" man's new British import singing competition, but since the announcement of producer LA Reid as one of the show's three judges, Cowell has gone silent with any confirmations, offering only a shortlist of candidates. He shot down the reports that Mariah Carey was set to be one of the judges, citing her pregnancy, but during a recent radio interview, he admitted that the star would have a role on the show.
"I think Mariah will have a role on the TV live shows," Cowell confirmed to host Jackie Brown. "I met her recently and she was on great form. And her idea was to be the judge of the judges, which only Mariah could come up with. She'll be involved in some form. I literally adore her. I love her to bits."

Carey is eight months pregnant, and recently posed nude for a number of gossip magazines.
Carey makes two confirmed participants for the show, with stars such as ex-"Idol" co-judge Paula Abdul, Jessica Simpson, Nicki Minaj and UK star Cheryl Cole as rumored judges and Pussycat Dolls star Nicole Scherzinger as a potential host. It's a frustrating situation for fans, but one that Cowell admits is being dragged out on purpose.
"The media have got it because our company leaks any information — if we meet anybody, the whole world knows about it. But I don't have a problem with that," Cowell told the Huffington Post in March.
Auditions for the show are currently taking place around the country; it begins airing on FOX in September.
via The Huffington Post