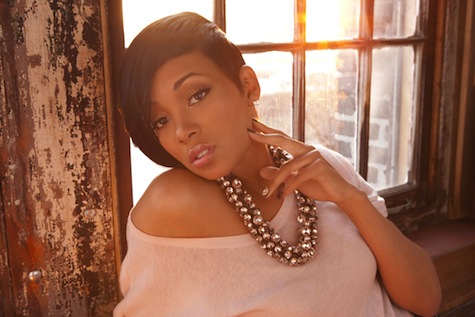 Monica is giving birth to New Life this fall. The R&B singer has announced a delivery date for her 7th studio album.
The follow-up to the Grammy-nominated Still Standing, which entered at No. 1 on the Top R&B/Hip-Hop Albums chart last year, is tentatively slated for an October 4 release. It will include production from Missy Elliott and Polow Da Don, with the first single due in as soon as two weeks.
"The label [J Records] has asked me, do I want to take an October 4 date," Monica told fans during a Ustream session. "Over the next month I'll decide because as of right now, we're pressing up the new single and trying to get some clearances which are very difficult, so if anything changes it will only be because of that. We're working on it and I'm thinking that I will keep that October 4 date."
The mother of two, who wed Lakers player Shannon Brown last year, is in a happy place and that reflects in her new music. "You get to hear some different flavors, but it's definitely R&B," she shared. "I think when you're in a happy place, you're able to do your job a lot easier."
Once again, she will be sharing her life experiences on the album. "I talk about a lot of different subjects, whether it's love, heartache, happiness, family," she added. "The music will be a lot like Still Standing in the sense that it's real and really about things that I've experienced, but it also from a very mature place. The greatest thing that happened to me is to learn forgiveness and acceptance. In this state of mind it's easy for me to make music about where I've been and where I'm going and do it in a positive manner."
A tour is also in the works, but Monica did not disclose further details.
via Rap-Up