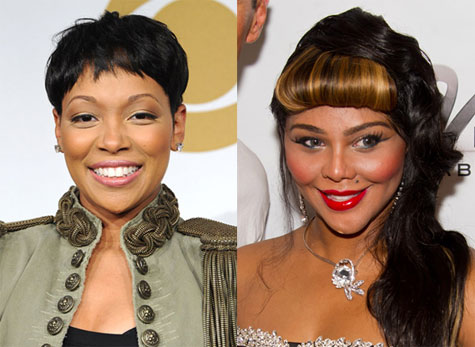 Monica is standing up for Lil' Kim after the rapper's verse was unexpectedly removed from her new single "Anything (To Find You)."
When the Notorious B.I.G.-sampled song made its debut at No. 71 on the Billboard R&B/Hip-Hop Songs chart this week, Kim's name was nowhere in sight. A rep for Monica's label J Records tells Billboard.com that the raptress was cut entirely from the official version due to contractual issues.
Monica took to Twitter to express her disappointment and vowed to get her friend back on the song. "I am just finding out what has happened to my single and myself & Missy are beyond hurt that @LilKim was removed," tweeted Monica. "She's our friend, a legend & @LilKim will get the respect she deserves at all cost. The clearance was revoked & I'm fighting to get it reinstated by the Biggie Estate."
According to Monica, Biggie's mother Volleta Wallace did not clear the "Who Shot Ya?" sample with Kim. "We respect all parties involved & were gonna do WHATEVER to keep the song as is because @lilKim the bizness on the record," she added. "I am as thorough as they come and I LOVE @LilKim bottom line is Ms Wallace has the final say and she said No. If we put it out we get SUED. "
The newly married singer responded to upset fans, saying, "Your directing your anger in the wrong place & I am far 2deep in the game 2play games. These r facts. Still fighting 4 Kim to be on it."
In a previous interview with "The Lil' Kim Fan Club Show," the Queen Bee said that her verse was shortened to make room for Rick Ross and that her full rap would appear on Monica's seventh album, New Life, due in October.
"Monica is one of the realest bitches I've met in this game," said Kim, who is readying the release of her own single "Looks Like Money."
via Rap-Up