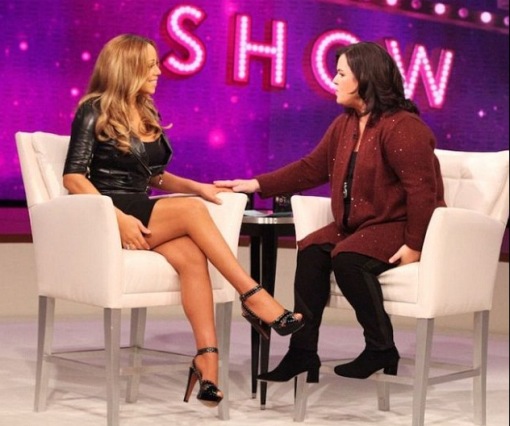 Rosie O'Donnell had her first big guest on her new Oprah Winfrey Network (OWN) talk show last night — Mariah Carey. As rumored, the pop diva discussed among many other things, the fact that not only is she the new spokesperson for Jenny (the "Craig" has been dropped), she also lost 30 lbs. on the weight loss program after initially losing 40 lbs. of water weight, following the birth of her twins Moroccan and Monroe earlier this year.
Mariah and Rosie went on to talk about the way they initially met, when Carey was just a little girl living in Long Island. And fans will be happy to know that the songbird is working on new material.
"I'm breathing again that I'm writing songs again," Mama Mimi said to Rosie. "My kids are such an inspiration for me."

In addition to the Jenny spokesperson reveal, Mariah confirmed her brand new duet with John Legend, a remix to her 2010 Holiday song, "When Christmas Comes," Carey said the video is being shot in Los Angeles soon.
"One of my favorite artists for the past few years, John Legend, and I just did a duet on a song called 'When Christmas Comes' that I wrote last year," said Mariah on "The Rosie Show." "So he's singing with me and we're doing the video in L.A."
Monroe and Moroccan's mother offered a teaser of what to expect from the video. "It's gonna be more of a house party than a real video. So it will be like having Christmas early and being festive."
See the full interview below.