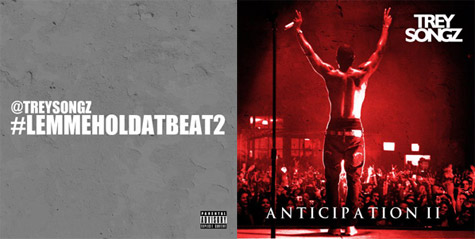 Trey Songz makes a major return, unleashing not one, but two new mixtapes for his fans. On the hip-hop-minded "#Lemmeholdatbeat2," the sequel to his 2010 tape, Trigga raps over Lil Wayne's "She Will," Drake's "Headlines," and Jay-Z and Kanye West's "Ni**as in Paris," while serving up original tracks produced by Drumma Boy, Troy Taylor, and DJ Drama.
On the R&B side, "Anticipation II," he shows his much loved freaky side with "Flights & Skype," "Girl on Girl," and "French Kiss," and shares his aspirations on the single "Top of the World."
Download the 32 free tracks below and look for Trey's fifth studio album Chapter 5 in the new year.
Download at TriggaMusic.com or Anticipation II | #Lemmeholdatbeat2