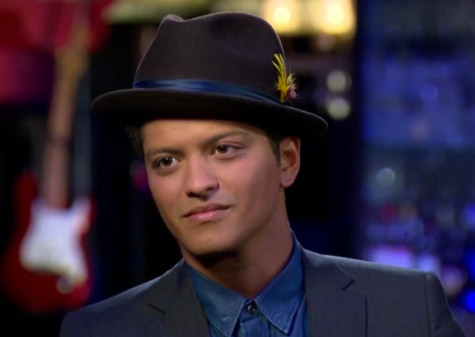 Bruno Mars tackled the tough questions when he was interviewed by Piers Morgan on CNN's "Piers Morgan Tonight." During a sitdown at Avalon in Hollywood, the Hawaiian heartthrob recalled being dropped by Motown and his 2010 arrest for cocaine possession.
"I don't live my life with regrets and I don't dwell on anything," said the fedora-clad singer, who relived his younger days as an Elvis impersonator.
Bruno, who is nominated six times at next month's Grammys, also shared his appreciation for Adele, Amy Winehouse, and Kanye West ("I've got every Kanye West album") and revealed his single status ("I am on the market"). But he couldn't help but squirm when his fellow Smeezingtons production partners Phil Lawrence and Ari Levine bestowed praise on him.
Watch the full interview below.
via Rap-Up