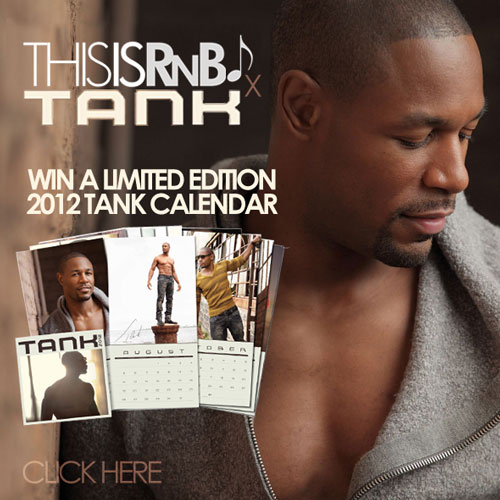 For our second giveaway of the new year, we have teamed up with Tank and Atlantic Records to offer 5 lucky ThisisRnB.com readers the chance to win Tank's brand new 2012 calendar. The calendar features 12 brand new photos of the R&B singer/songwriter. Ladies, you do not want to miss out on this!
Enter to win below.
UPDATE: The contest has ended. Thanks to everyone who entered. If you weren't contacted, you can still pick up the calendar from Tank's website HERE, and we wish you the best in our future contests.

Instructions
1. We have written out lyrics below to one of Tank's songs. All you have to do is name the song, email your answer to contest@thisisrnb.com, with the subject 'Tank'.
2. Leave a comment below saying why you should win, (not the answer). Make sure you use the same email address for your comment, that you email your answer with (your email will not be seen by your comment).
Terms & Conditions:
1. The contest starts today January 11, and will end January 13 at 5:00 PM EST.
2. The winners will be picked by random selection of the email entries.
3. The winners will receive 1 Limited Edition 2012 Tank Calendar.
4. The calendars will be shipped to each contest winner, via the United States Postal Service Priority Mail. ThisisRnB.com is not liable for any lost or damaged mail.
GOOD LUCK!!
Name This Song:
"Oh she found all of the numbers I had in my car // Oh she called all the ones I had marked wit a star // Oh I'm racing over to plead my case // Oh she saw it was me and slammed the door in my face // Fella's tell me why how come we always doing wrong…"