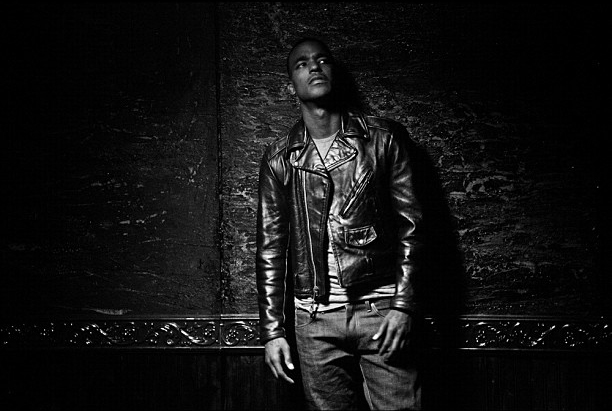 If you aren't familiar with the name Luke James, now is the time to pay attention. We have been featuring the emerging artist for some time now, and strongly believe he is one of the top artists to watch in 2012. James just released his first solo project, a free EP titled "#Luke" (Get It Here), and a simplistic but emotional video for his debut single "I Want You." Luke is a New Orleans resident, he was previously in a group named Luke & Q, signed to Clive Davis' J Records, through production team The Underdogs. When that fell through, Luke pursued songwriting, which recently lead to a solo artist deal through Mercury/Island Def Jam, through producer Danjahandz.
We recently had a very candid interview with Luke, where he spoke to us about his debut single "I Want You," working with Beyonce and Melanie Fiona, his new EP, forthcoming debut album, what high school was like for him, how to impress woman, and more. (It's a little bit of a lengthy read, but its worth it). Check it out below.

On "I Want You":

It happened very organic. I didn't have any music, I just had an open room to record in, and I took the time. Without any music to write on I created music vocally, that's what you hear in the beginning of the song with the barbershop harmonies. That's what I do when I don't have any music I create it vocally, whether it be me trying to sound like a barbershop group or a trumpet or a drum, then I bring it to a producer. I set out in creating "I Want You," I was trying to create a record that felt like Keri Hilson's "Knock You Down." I was trying to do a record that felt like that, had the energy of that, but of course it didn't turn out that way. I only had the first verse and the hook, and of course the hook is a simple hook, I'm keen on using my falsetto a lot, and it just came naturally for me to say, "I want you." I was going through a little situation in a relationship where I was having an epiphany of being with someone or wanting someone, and the hook just came natural after singing the first verse. It was just an acapella, just a rough, just a sketch. I had met Kadis & Sean (producers) through Stacey Barth, working with Brandy. I played them "I Want You," just the sketch for them to hear the direction I wanted to go, and they loved it. The next day I came back, they had music surrounding it, and that's what you hear now.
Being in Beyonce's "Run The World" Video and Melanie Fiona's "4 AM" Video:
I didn't really take an initiative to be in videos, I owe that to my manager Frank Gatson, who works side by side with Beyonce, so that's how [Run The World (Girls)] happened. The "4 AM" video, Melanie Fiona I've know for a long time, she just called me one day, I think it was 2 or 3 days before she was shooting, and she just asked if I would like to be in it, as the lead. So, of course I said Yes. I was a little taken back that she would ask me though, [She could] just tell me and I'll be there.
On his new EP "#Luke":
The EP was gonna come out a long time ago, but different situations had happened which caused it not to come out on time, but we're glad it happened that way, because at first it was just records that I admired, and I flipped, so basically it was a mixtape. I had time to live with it, and I think I'm a pretty good judge of my music and music in general, music has to move me, and if it doesn't move me I know it's not going to move someone else. It could be a great listen, first listen, but if it isn't something that you want to start your day to, where you can't wait to listen to, where you don't wake up everyday wanting to hear it, then it's not want I want people to take from me. I want people to take from me something that they can have forever.
On Writing Vices:

I can't sing off alcohol, well I can, but then I turn into 2pac (haha). I can't smoke because it messes with my voice. But, to be completely honest a vice that I use, that works for me a lot, and its terrible – Drama. It's weird I write my best stuff when there's drama around, a relationship thing. Also my writing partner Britney Bereal she inspires me, she's also my vice, I call her angel. But yea no drugs, woman that's the only drug I got, I'm addicted.
On High School and Going To An All Boys School:
I wasn't the man, well wait hold on up I was! (haha). With the singing, when I was in the group me and my brother, I can't lie we were popular. It was an all boys school, so let me tell you the dopest thing about that school… We had dances that you had to come with your ID, only dudes from the school could get in, but we had girls from ALL the other schools coming to our dance. Man, it was crazy! The ratio felt like 11-1 [girls to boys]. Let me tell you what I used to do though. For lunch money, with the athletes or whoever, we would do 3 way calls, I would tell them call me and then call your girl, tell her you are about to sing for her, they would put their phone on mute and I would start singing! I used to sing for girls mommas, whoever, just to get cats some play. I used to get my lunch money like that. There were these twins, they ran track, mind you they were twins, so I had to give them separate voices. So I did a falsetto for one and a regular baritone voice for the other. The craziest thing I found out was, because I would like, (What happens when the girls see you in person and they be like sing for me. What do you tell them?) they were using my excuses! Like, 'Yo my vocal chords feel real raspy, I don't want to sing right now,' or 'I'm on a break' … [laughter…] that was high school for me.
On His Nickname "TheBigBadLukeJames":
Well, in Greek 'Luke' means wolf, since I was a kid I always referred to myself as 'the big bad wolf,' just my demeanor, when I was young, I wasn't super talkative, when dealing with girls, they would always call me that, so I just took it on. My demeanor the way I come at woman, if I'm interested… it's mysterious, and I think that's part of being an artist, having some type of mystic to you. And that drives woman crazy but it has to be natural.
On How To Impress Woman:

There is no set way man, woman are so different. Woman love confident men, you could be real standoffish but there could be something super confident about you. If it's not you, I know you have a friend, when he walks in the room, if there is a girl in there. He says something to make her smile, and then he walks out the room. Right then and there he did something to her, he is on her mind. People always be like why Prince do this, why Prince do that. Prince is a prime example of a 'wolf,' someone that is super confident. Ni**as be like, I would never wear that, but that's a real ni**a right there! When you have this ability where guys wanna be like you and woman wanna be with you. If you can have that, you gonna do fine. Dudes will take their girl to your show, because they know what you are gonna do for their girl. I love woman man, I just love how woman act, sometimes it's a game, but I like to think I'm a respectful kind of dude.
On New Styles of R&B:
I feel like its all organic, Frank Ocean, The Weeknd, Miguel. The music is just them, the way its created, the way they write it, it's not the typical format of a song. I feel like I fit right in with that. That's the way I am. That's the way my music is, its very organic and honest. It's super vulnerable and feel like people relate to that, people love real. Look at how popular reality TV is.
The Sound of His Debut Album 'Made To Love':
The sound is a plethora of things, its things that's I've grown up on, Gospel, Alternative, Soul, Rock, Folk. That's what the album embodies. It takes you on a ride. I consider it like my life. You never know where life is going to take you. You just go with it, and musically that's how it is. There will be a song with heavy rock influence, and then next song is a very soulful, sultry kind of thing. But it all blends, it all works together. It's all just music. What you will take from it… you will say, "This is quality music."
On Collaborators, Producers For Album:
We (writer Nasri and Luke) have this amazing song together called "Love To An Angel." I can't wait for everyone to hear it. It's THE record, it's so beautiful, so much feeling. I worked with Kadis and Sean, the Messengers, Claude Kelly, John Legend, Danja (of course) and Chuck Harmony so far.
Be sure to follow Luke on Twitter @WhoIsLukeJames