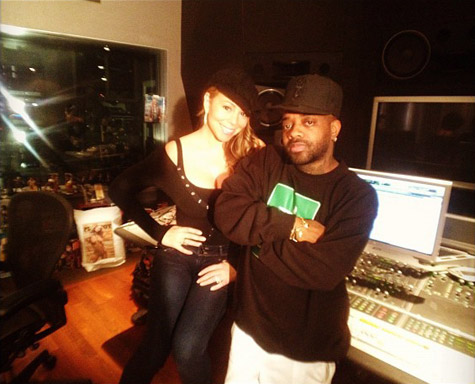 Mariah Carey had to deal with an unexpected scare when her husband Nick Cannon fell ill over the Holidays, but now that Nick has recovered, MC is back in full work mode. The Pop songstress is ready to continue on her new album and who else do we all want to see her with, but Mr. 1472, Jermaine Dupri. JD and Mariah reconnected at Southside Studios in Atlanta to get to work.
"I said MC they don't expect you to be camera ready,she said Yes they do LOL!!" tweeted JD, who shared a couple photos from their session. Later on he added, "I told y'all MC stays up working longer than me we still writing #teamnosleep."
The hitmaking duo are working on new music for Mariah's anticipated fourteenth album, tentatively expected for later this year. We are looking forward to some new classics… See more photos below.