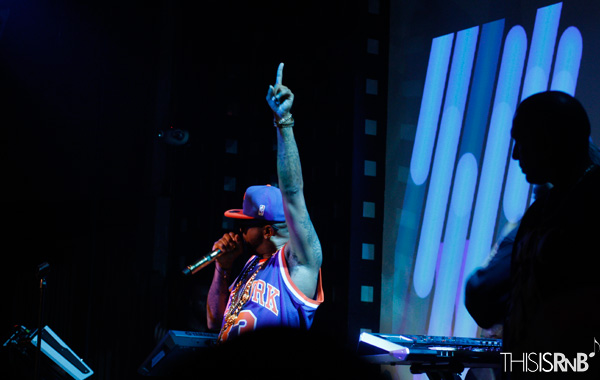 On Monday night The-Dream returned to NYC's infamous SOB's for the second night of his "Kill The Lights Tour" / "1977" show. The mood was set well before anyone hit the stage as his gigantic ad wrapped tour bus parked up in front of the venue as a 'I'm officially here' statement. The sold-out crowd filled with fans and industry professionals all awaited for the mega-hitmaker to hit that stage.
As the night was kicked off by Roc Nation singer/songwriter Bridget Kelly who treated the audience with her remake of Miguel's "Quickie," and originals from her latest EP "Every Girl," including her Dream-penned single "Seek & Destroy." RCA's burgeoning singer/songwriter CJ Hilton came on next and attempted to win over the crowd of Hip-Hop/R&B heads with his vocal gifts, but we felt a disconnect with the crowd unfortunately, but that's a story for another day. Maybach Music's whole team, Wale, Meek Mill, Stalley were chillin' in the VIP, along with Bad Boy's French Montana, Mystikal, Adrienne Bailon and more.
The-Dream finally emerged around 10:45 to a dimly lit stage in the theme of his "Kill The Lights" concept. He opened with cuts off his buzzed about free mixtape/album "Terius Nash 1977," and continued on for over an hour with hit after hit, only taking a quick break to change clothes (jerseys) as his new label signee Casha performed her cover of Deniece Williams "Silly." It may have been a couple years since Terius has toured or performed on stage at all, but he proved last night that his hard work and catalog will continue to attract crowds of both Hip-Hop and R&B fans for much time to come.
See our photos from the show below….

[nggallery id=122]