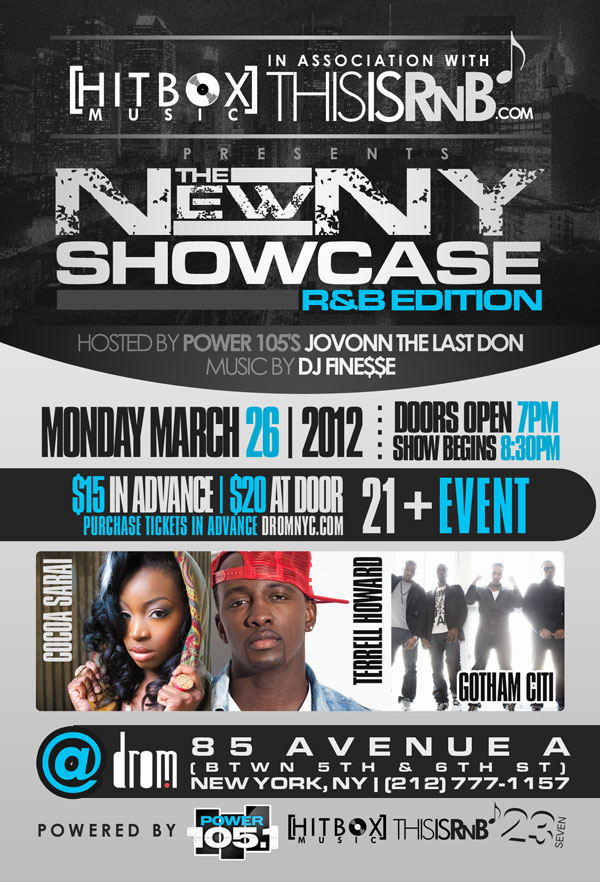 As we continue growing our brand here it is important to also remain at the forefront of emerging talent, and creating the opportunities for this talent to be heard. It is no secret that new urban music has been lacking coming from the NYC area, so in hopes to help shed some light on new voices we have teamed up with Hitbox Music and Power 105.1 to present the very first "New NY R&B Showcase."
The event is going down on Monday, March 26 in lower Manhattan at Drom lounge. There will be 3 featured up and coming R&B acts performing, including Cocoa Sarai, Gotham Citi (signed to Bryan Michael Cox) and Terrell Howard (signed to Tha Corna Boyz). Each of these acts have been building a buzz and anticipation for their debuts, so it is the perfect time to showcase their live skills. If you are unfamiliar with any of their music, we have included 1 track from each of them below for you to get familiar.
Take a moment to check them out below and if you are in the NYC area, we would love to see you at the show! And just to sweeten the deal the first 3 people to email us at contest@thisisrnb.com with the subject line "New NY" will get a pair of complimentary tickets to the show!

Cocoa Sarai feat. Fred Da Godson – Anything
[audio:https://www.thisisrnb.com/wp-content/uploads/2012/03/08-8.-Anything-ft.-Fred-Da-Godson-Prod.-by-Rick-Hertz.mp3|titles=08 8. Anything ft. Fred Da Godson (Prod. by Rick Hertz)]
Gotham Citi – Bedroom Floor
[audio:https://www.thisisrnb.com/wp-content/uploads/2012/03/BedroomFloor-radioedit.mp3|titles=BedroomFloor-radioedit]
Terrell Howard – Be With You
Website: Cocoa Sarai
Website: Gotham Citi
Website: Terrell Howard