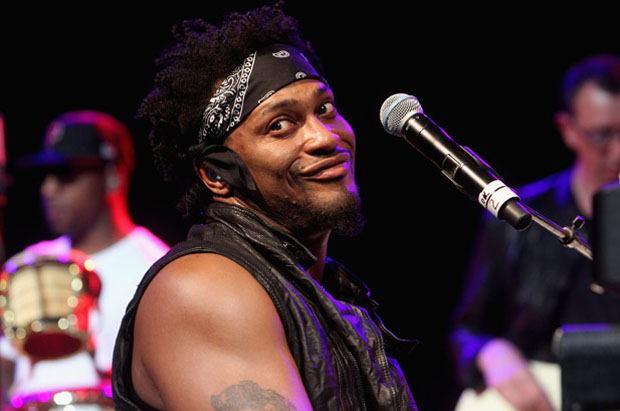 D'Angelo returned to the U.S. stage a month earlier than expected when he made a surprise appearance during Questlove's "Superjam" set at this years "Bonnaroo Music & Arts Festival" in Tennessee.

"I've been waiting 12 years to say this — ladies and gentlemen, D'Angelo!" Quest announced to a totally shocked crowd.
D'Angelo took the stage for a full 90-minute set, showing not a bit of rust despite it being his first time in front of a US audience in over a decade. In what surely was a bit of a disappointment to fans in attendance, though, the singer failed to perform any songs from his heralded catalog or any new music, opting instead to excitedly run through a series of covers including Led Zepplin's "What Is and What Should Never Be," The Beatles' "She Came In Through The Bathroom Window" and Funkadelic's "Hit It & Quit It."
"This is what we used to do at the studio. We'd just go through the catalog of all my favorite songs. What you're literally seeing is the process, us jamming here tonight," Questo explained, according to Rolling Stone. After the set ended and the crowd clamored for an encore, Quest revealed that the entire set was the product of a marathon rehearsal session on Saturday and they simply had nothing else to play. "We don't know any more songs. We were literally cramming all these songs in six hours."
He hopes the warm reception will provide motivation for D'Angelo to release his new album. "I wanted him to see that," he told the The Associated Press. "That's a green light. Me doing it wasn't, like, running out of jam partners. Me doing it was basically showing him, 'Look, you are so missed you don't even realize how much you are missed,' hoping that this will be the adrenaline boost that will finally get him to turn his record into the label. It's done, it's brilliant. I played on it. I know it's brilliant. Now it's just time to let his kids go and show it to the world. That's what I'm here for."
As previously reported, the soulful crooner is slated to hit the 2012 Essence Music Festival stage, opening night July 5 in New Orleans.
UPDATE: Hear the full audio from the show now (click here), view set list here.