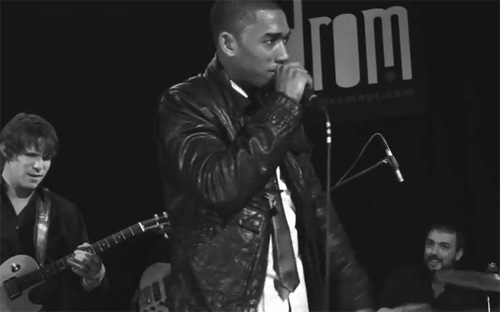 Singersroom presents the new event series entitled, "The Rhythm Effect," which mixes a performance by promising artists and a mixer filled with industry tastemakers and trendsetters. REVEL/So So Def/Epic Records singer-songwriter, Brandon Hines shined at intimate venue, Drom, tucked in NYC's Lower East Side early last month.
The R&B newcomer gave a stunning performance with song selections such as 'You Never Give Me Your Money' and 'Yes You Are', in front of a packed room, which included Epic Chief L.A. Reid, hit producer Jermaine Dupri and soul songstress Chrisette Michele.

"I feel so privileged to be a part of the Epic family," says Brandon Hines as he looks over the sea of adoring cult like fans. Loyal fans knew every song and sang along with Mr. Hines. It was almost hard to also ignore the large presence of Howard alumni that gave him an extra co-sign.