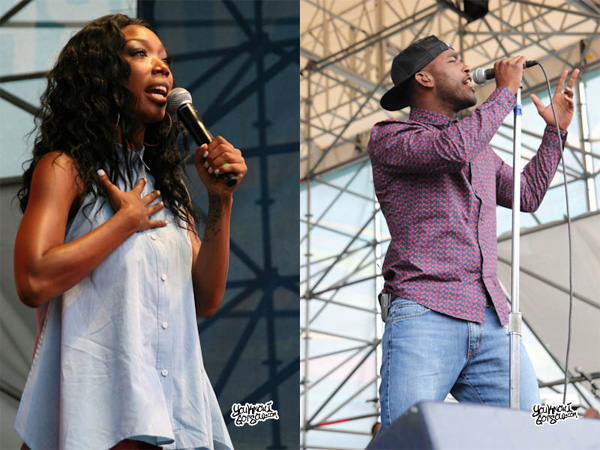 Our friends over at YKIGS took a trip out to Philly this weekend to attend the Rhapsody 'Global Fusion Music Festival.' The outdoor event held at Penn's Landing brought crowds of thousands to see performers from various genres including r&b, hip-hop, pop and reggaeton. R&B was heavily in the set though as Brandy was the nights headliner, Elle Varner, Luke James and Kenny Lattimore supported her.
Check out their recap, photos and video below…
First up was Luke James, and it was clear the crowd here in Philly was already familiar with him from the raucous cheering. Luke performed a set we've been accustomed to seeing from him, which included songs from his #Luke EP, bringing up a female from the audience to serenade, handing out roses, and of course his powerful vocals.

Elle Varner got an equally impressive ovation, if not louder, as the crowd was thrilled to have her in Philly. In fact, she made a point to comment on stage about how this was the livest crowd she's ever performed in front of! She performed her recently released single "I Don't Care" for one of the first times during the set. Also included were her hits "Only Wanna Give it to You" and "Refill", the latter of which had the crowd singing along.

Kenny Lattimore followed things up and smoothed it out for the true r&b fans in the audience. He asked the crowd if they remembered 1996 before going into songs from early in his career including "Never too Busy". He also performed songs from his upcoming album "Back 2 Cool" including his current single "Find a Way".

Hands down the star of the night was of course the final performer, Brandy. The crowd, who had patiently waited through a long day of performances, was in a frenzy when Brandy hit the stage. She opened with "Full Moon" and went through hit after hit including "Have You Ever", "Right Here", and "I Wanna Be Down". Also included in the set was her current single "Put It Down" from her upcoming "Two Eleven" album.
[nggallery id=136]