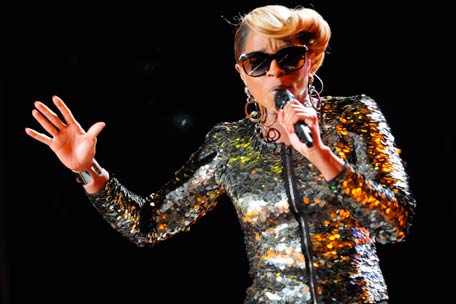 Mary J. Blige will celebrate a major milestone in her career tomorrow Saturday, July 28, as the date marks the 20-year anniversary of her debut album What's the 411, the 12-track opus, which changed music and is still in rotation today.
The Queen of Hip-Hop Soul sang of the ills and thrills of romance. She touched on the melancholy and the sweet, her powerful lyrics resonated with fans young and old. Earning a No. 1 position on Billboard's R&B/Hip-Hop Albums Chart in 1992, and scoring album sales of more than three times platinum.

Speaking with AOL's The Boombox, Mary reflected on the influence album, "Wow, I mean to celebrate that accomplishment of the 20th anniversary of What's the 411?… it means everything because it was the beginning of everything that I do," Mary tells The BoomBox. "It was the beginning of the 20-year career span that I have. Just the longevity and the fanbase and the building of that."
The 41-year-old Grammy Award-winning songstress also details some of the memories she has surrounding the debut of What's the 411?.
"The first shows, being nervous, the Howard University performance Puffy booked for us, just having Biggie and everybody around that was around at that time," she shares. "Just hearing your record on the radio for the first time from that album."
Mary is currently about to embark on the Liberation Tour, supported by D'Angelo and Melanie Fiona. Check Ticketmaster to see if the show is hitting a city near you!