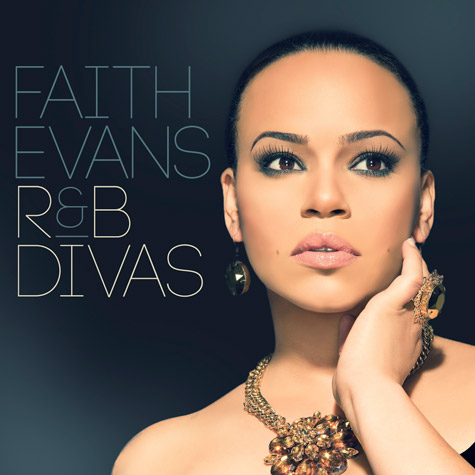 Faith Evans reveals the cover for the "R&B Divas" album, which serves as the companion to TV One's reality show of the same name. Due October 2, the 12 tracks include duets with her fellow divas including Fantasia, Kelly Price, Keke Wyatt, Syleena Johnson, and Monifah, with production from Claude Kelly and Chuck Harmony ("Tears of Joy") and 1500 or Nothin' ("Dumb").
Proceeds from the album will benefit the Whitney E. Houston Academy of Creative and Performing Arts.
"I'm extremely excited about executive producing this Faith Evans R&B Divas album and working beside some of the premiere female R&B vocalists of our generation," said Faith. "I'm also proud to honor my dear friend and music icon, Ms. Whitney Houston, and give back to the community in doing my part to help save performing arts in schools. Making this album has been an incredible experience, and every true fan of R&B music will be touched by these beautiful songs of love, hope, and triumph!"
See the tracklisting below.

R&B Divas Tracklisting:
01. Lovin' Me feat. Nicci Gilbert, Monifah, Syleena Johnson, and Keke Wyatt
02. Tears of Joy
03. Mr. Supafly feat. Keke Wyatt
04. Too High for Love
05. SisterFriend feat. Nicci Gilbert, Monifah, Syleena Johnson, and Keke Wyatt
06. Dumb
07. Sometimes feat. Nicci Gilbert and Helene "Mom" Gilbert
08. True Colors feat. Fantasia and Kelly Price
09. Stonewall feat. Syleena Johnson
10. She's Me feat. Monifah
11. Soon As I Get Home (Live in L.A.)
12. Jesus Loves feat. Kelly Price
[RU]