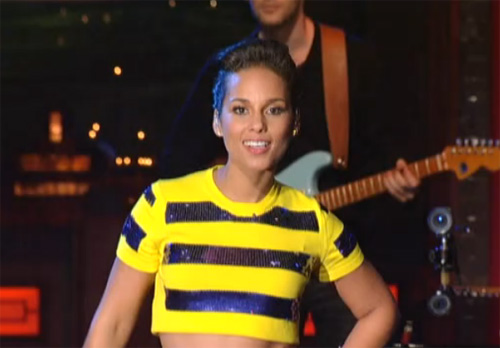 Tuesday night, Alicia Keys set the Ed Sullivan Theater "on fire" with a special, soul-stirring performance that brought the 2012 season of 'Live on Letterman' to a conclusion.
The R&B superstar commanded the stage as she opened the show with the energetic, "New Day," encouraging the audience to dance and sing with her tonight. The 50-minute set contained her many hits and fan favorites, such as "You Don't Know My Name," "Try Sleeping with A Broken Heart," "No One," "Empire State of Mind," and of course new cuts off her latest album, including "Limitedless," "Listen To Your Heart," "Brand New Me," plus the title track, "Girl On Fire."
During a moment of self-awareness Keys stopped to ponder the history of the Ed Sullivan Theater, telling the crowd she was honored to play there, among the big names like, Tina Turner, The Supremes, Diana Ross, Ella Fitzgerald. "The history, the her-story, the we-story is all up in here, not to mention the Beatles and Elvis and stuff," she joked.
Watch Alicia's full "Live on Letterman" concert now!