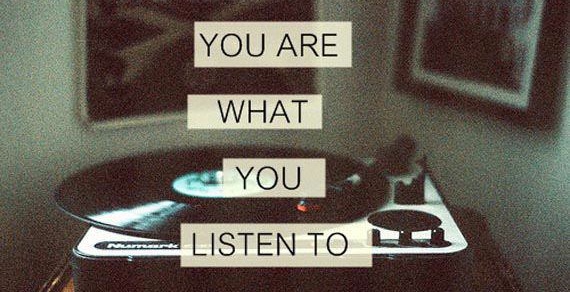 New year, new you. Before you engage in a ménage à trois with Ben & Jerry or champagne your pain — listen to these songs and proceed to flex on your ex & let your success be your best revenge.
Add these tunes to your playlist and be a better version of you. Did we leave anything out? Comment with your thoughts.

10. Single Ladies – Beyonce
Ahh, yes. This queen provides an uplifting record for you and your girls to shake your derriere in them dereons to.
Fave line:
If you like it, then you should have put a ring on it. Don't you be mad if you see that he want it. *does dance*

9. U Don't Have to Call – Usher
Cuz Ima be alriiight toniiight! Keep that high energy from Bey-Bey's Single Ladies, and ride in the car with your girls to this.
Fave line:
You don't have to call. It's ok girl, I'ma be alright tonight.

8. Fighter – Christina Aguilera
You might as well add this one to your work-out playlist. Xtina's fierce "Fighter" record makes you wanna punch your ex in the face run a few miles and helps you realize that you really are stronger than you think.
Fave lines:
"Makes me that much stronger// Makes me work a little bit harder// It makes me that much wiser// So thanks for making me a fighter"
7. Go Ahead – Alicia Keys
Angry? It's cool. Listen to Alicia Key's "Go Ahead", off her As I Am album. Her man did her wrong, she put it in a song, then made millies off it. Who's angry now?
Fave lines:
Go 'head, gon' get up outta here// Go head baby. You knew you was wrong// you knew all along must be crazy// if u think ima fall for this anymore// everybody say noOo.
6. Marvin's Room – Jojo
Still fired-up? Sing along to one of our favorite songs, Jojo's rendition of Marvin's Room.
Fave lines:
I'm just saying, you could do better// Always turned you out every time we were together// Once you had the best, you can't do better// Baby, I'm the best so you can't do better.
Honorary line:
Something cool is in my cup// Ima send a sexy picture// to remind you what you're giving up.
5. Survivor – Destiny's Child
Don't worry, it's not the end of the world. That happened on December 21… and we're still here! Bey, Kelly & Michelle remind you that you'll be just fine. In fact — you're better than you were before!
"When you crossed me, you lost me// If I was guarding Derrick Rose, I would be more understanding// But, you aint Derrick Rose// You was my number one, but uhh you ain't Derrick Rose// Tryna make my point again, you aint Derrick Rose// You just on some bullshit, you aint Derrick Rose."
Fave lines:
"Now that you're out of my life//I'm so much better// You thought that I'd be weak without you// But I'm stronger// You thought that I'd be broke without you// But I'm richer"


4. Doing It Wrong – Drake ft. Stevie Wonder
Yeah, we're counting it as a slow jam. Our favorite line pretty much explains the whole reason we like this song. Just because you're heart broken, doesn't mean you gotta succumb to the sad ways our generation views relationships.
Fave lines:
"We live in a generation of, not being in love// And not being in together// But we sure make it seem like we're together// because we're scared to see each other with somebody else"
Honorary line:
The whole damn song.
3. Irreplaceable – Beyonce
Originally written by Ne-Yo, this song speaks to both sexes and reminds you that there's a million more fishes in the sea.
Fave Lines:
"You must not know bout me// I can have another you by tomorrow// So don't you, for a second, get to thinking you're irreplaceable." TELL 'EM GUHH!
2. Carry On – Ne-Yo
Off his latest, amazing R.E.D album, Ne-Yo puts his foot down and tells his triflin' girl to get to steppin'
Fave lines:
"So you found another reason to go do what you do?// Well I ran outta reasons to sit here waiting on you."

1. Best Thing I Never Had – Beyonce
Oh, you thought I was gonna forget this song? The ultra-mega-I'm-getting-over-yo-ass-song of 2012?! Hit the replay button, and thank God you dodged that bullet.
Fave lines:
"You showed yo' ass and I saw the real you. Thank God you blew it// Thank God I dodged that bullet// I'm so over you, so baby good looking out"
Honorary line:
The whole damn song.

Written by @NickyGeezy