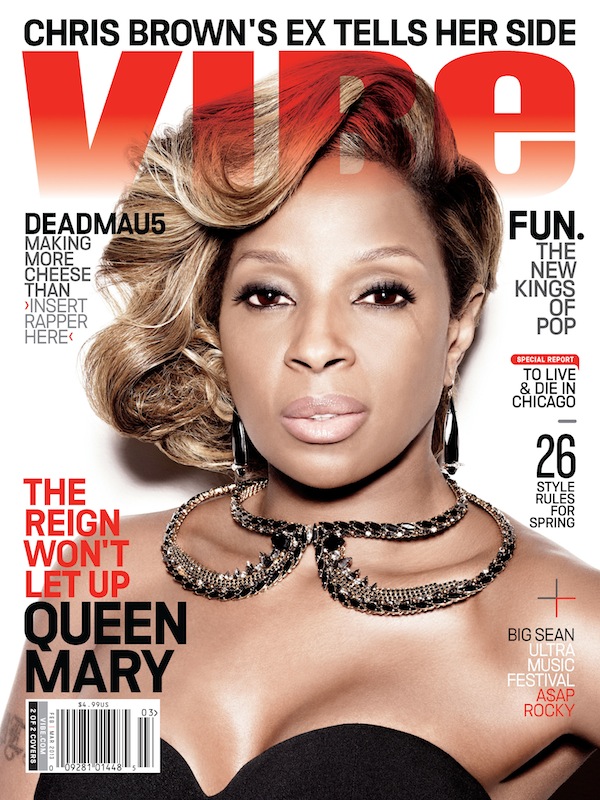 Mary J. Blige was honored during Grammy week with VIBE's Impact Award, and in celebrating her 20 years in the music business she covers the magazine's new February/March issue. In the feature MJB speaks on family life, how she has evolved, current R&B, and reveals her favorite artists right now. Which, definitely might surprise you.
Read some excerpts below.
Let's talk about current R&B. How do you feel when you turn on the radio?

Maybe in 2012, in the middle, I was like, "What is going on? What is this?" Things got worse before they got better. I think things are going in the right direction. I am so proud of what Rihanna is doing.

Wait, really?

Yes. She is speaking to her generation, and she's living her life in front of them. I don't even think she's purposely doing it (7). She's such a beautiful girl, and I don't think she knows she's that beautiful (8). She's just living her life, and leading her generation, and she has great, great songs. Her career is amazing; and her team, obviously, is amazing.

People give her a hard time because of the whole Chris—

They give her a hard time because she's living her life. As long as she's having fun and isn't three minutes away from wanting to shoot herself, good! I want her to be happy. That's impressive to me. And I love her songs. Adele also gives me hope. God bless Amy Winehouse. She was just the perfect thing.

What about male artists?

Drake is amazing. He is an amazing writer: great songs, great melodies. And Kendrick Lamar has a classic album right now. Classic. It's like The Chronic. I'm not saying it is The Chronic. But you know how that album felt like a movie, with a beginning, middle and an end? His album has that same thing. I also love Bruno Mars. They need to take him seriously. He. Is. A. Problem. And Miguel is amazing. His voice; his writing. All of his songs are beautiful. He is pure inspiration.
[HHNM]