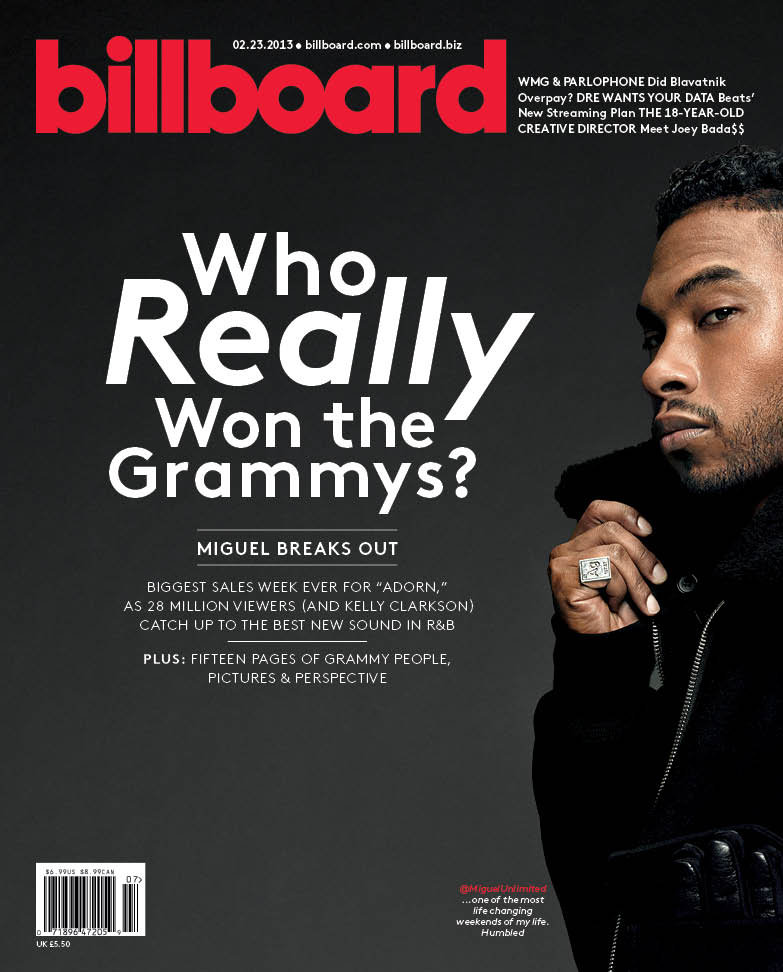 Miguel finally received the full recognition he deserved for his single "Adorn" and acclaimed sophomore album Kaleidoscope Dream at last Sunday's 55th Annual Grammy Awards. The singer-songwriter, still relishing in the win for "Best R&B Song" and his showstopping performance, has landed the cover of the new issue of Billboard magazine.
In the interview Miguel speaks for the first time since winning a Grammy, sharing how he celebrated, his thought process when making the album, upcoming tour with Alicia Keys, and if he has worked with Beyoncé.
Since the show Miguel has been approached by a few artists he is truly a fan of, but no one he could confirm. "The cool part is you want people to discover you. It's such an awesome opportunity and awesome time for that to happen," he said. "I'm on like cloud 12, man."
Read some excerpts from the feature below…

Congrats on winning your first Grammy. Since the award wasn't televised, where were you when you found out?
I found out in the car as we were pulling up to the red carpet. It was an "Oh, shit" moment. I had my girl with me and it was like, "How crazy is that? And I get to perform?" It was just a great feeling.
So you win the award, have a great performance, Kelly Clarkson shouts you out in her speech. How did you celebrate?
I stopped by the Sony party-had to do that to say thanks. I've been to these parties for years, but this seemed like the special night. I actually own something. I wasn't just a part of it. So then I stopped by Chris [Brown]'s party to see Mark Pitts-he signed both of us; he's like my mentor. Then I went to my room. I had a suite, and I had all my friends over and family and we just partied. I didn't sleep until the next day, which was awesome.
You had written the song "Kaleidoscope Dream" with Salaam Remi almost two years before the full album came together. How did that ultimately determine the direction of the album?
I wanted it to be as edgy and alternative as my lifestyle. I don't think I live the lifestyle that's expected of a quote unquote R&B artist. I'm just not that dude. I don't go to the club and pop bottles. I have my smooth moments, I suppose, but my life isn't like that. Honestly, I don't really listen to R&B music. I'm much more into lots of rock'n'roll. That juxtaposition was really important to highlight. Overall I wanted people to feel the way we would if we had a drink for the first time and we actually have a conversation. I wanted them to walk away knowing I wasn't going to give them my deepest, darkest fucking secrets, but that there was some character to my personality. So that when you do have drinks with someone for the first time you can go, "You know what, this guy is kind of cool. I like where his head is at."
An artist you may have worked with is Beyonce. What's the story behind that photo of you two in the studio last fall?
Have I worked with Beyonce? [laughs] I was really nervous to ask her, that was all, I just asked her to take a photo with me and she was really sweet about it. That's all I can say. I've honestly never worked with Beyonce. It would be awesome, though, I would love that.