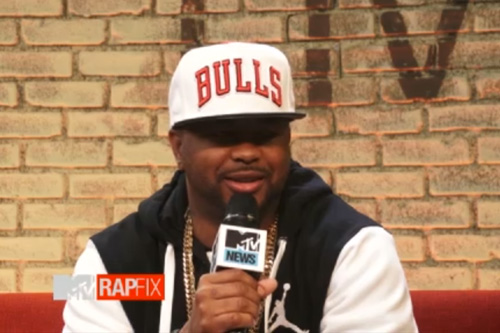 The-Dream released his brand new single "Slow It Down" this past Valentines Day, and as he begins prep and early promo for his fourth album FourPlay, he paid a visit to MTV's 'RapFix Live' on Wednesday for an open interview, answering questions from fans, other artists and sharing some advise for an up and comer.
The multi-platinum hitmaker talked about working with Jay-Z on new music, why he changed the title of his upcoming album to FourPlay, which is also the title of a song which he claims might be his best ever as an artist. He shared his views on Kanye West's outburst about Justin Timberlake's "Suit & Tie," and judging art in general, he spoke about the deeper meaning of his single title, which comes from his dislike for certain executives and artists requesting or requiring a certain song tempo or "club banger."
As always he was asked about Beyoncé's upcoming project and he discussed that she is not looking for one certain sound, or trying to appease everyone, the goal is always just trying to make the best music possible.
Dream shared some thoughts on R&B in today's environment, who is winning and why it's hard to have "real" R&B back on top, he also spoke about his recent signing of August Alsina and how he is very excited for him as an artist and his upcoming album.
Check out the full interview below…