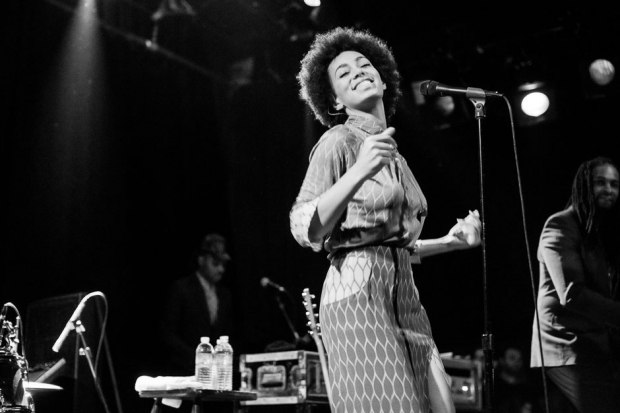 This past Thursday, Solange had A rockin when she pulled into town for a concert as part of her short US tour in promotion of her acclaimed 'TRUE' EP. The 26-year-old brought her funky, uptempo set to the stage at Masquerade in Atlanta, performing cuts from the new project, along with her past singles and fan favorites. Solange surprised the crowd when a special guest hit the stage to help her close out the show.
The Houston-native was joined by Janelle Monae, who was also there supporting her Wondaland Arts Society artist Roman GianArthur (opening act), as Solange ended the night with her infectious single "Losing You." Monae came out dancing and jumping around the stage, and helped sing part of the chorus, while Solange continued to keep the crowd pleased with her engaging performance.
Monae ended the night off with kind words for her friend, "Y'all better give it up for my motherfucking friend!… A writer, a producer, a mother, a everything, I'm so proud of her y'all."
According to fans that attended the show Solange announced the next single from TRUE will be "Lovers in the Parking Lot," and she stated that she will be filming a video for the song in Houston this week.
This is what we love to see from our artists. Peep the performance footage below…
[SR]