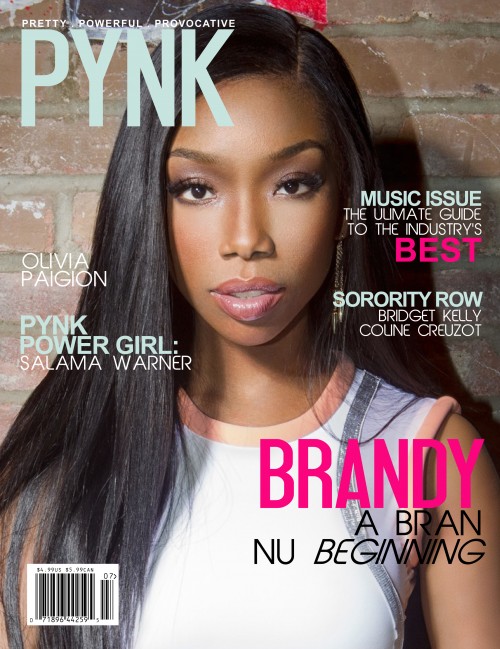 Brandy is truly back in the spotlight. Releasing her latest album Two Eleven, last year, to her recurring role on BET's new season of 'The Game,' and her role in the new Tyler Perry movie Temptation. On top of all this, the R&B veteran got engaged over the Christmas. As she continues to work the album, and promote her latest acting endeavors Brandy graces the cover of PYNK magazine and talks about it all.
In the interview for the cover story, she dishes on all things music, her return to "The Game", her engagement to the love of her life, and finding her personal style.
Check out excepts and more photos below…
You hit the ground running with the release of 'Two-Eleven'. You were everywhere promoting the album. Do you feel as though your hard work paid off? Were you pleased with how the album performed?
"I feel like my hard work paid off because my fans love the album. Of course, I would've wanted the album to reach more people but I just feel blessed to be able to do what I love. Sales chart positions and all of those things don't really define me…I define me."
How do you feel about the current state of R&B? Are there any newcomers you listen to and would like to collaborate with?
"I'm not okay with the current state of R&B. That's why 'Two-Eleven' was so important to me. I wanted to do an album that contributed to that genre of music. I think it was very necessary for the music industry and the hearts of people. As far as newcomers, I hadn't really been paying attention because I was so focused on the album but I can't help but pay attention to Kelly Rowland. I admire her so much and would love to collaborate with her. Beyoncé is phenomenal and Rihanna is amazing too."
You've helped to musically influence an entire generation of singers and many of your fans feel that you have gone unrecognized for the impact you've had on R&B music. Do you agree? Why or why not?

"Sometimes I agree with it because I know there are a lot of talented people that have shown me a lot of love on top of my fans really expressing their love for me. Sometimes I think your ego gets in the way because you know you want everybody to feel that way about you. You want to get the credit. You want to get the props but I try not to live in that space because I know it's ego. I'm just happy with being me. I'm happy with being able to be so connected in my being that I'm able to express that in my music. There are so many people who get the credit but they're not really connected to their music. I would take the honesty and the connection with my music over the credit any day…but both would be nice! [laughs]"
You and your family experienced great success doing reality TV. Would you ever do reality TV again?
"You know, I think I did reality TV at the wrong time. When I was on [Family Business] I wasn't as consistent in my career. I wasn't connected to my purpose at the time. After that, I said I wouldn't do reality TV again but there are shows out there now like the 'Mary/Mary' show that are good. I would consider it if it were centered more on my career."
Read more at PYNK