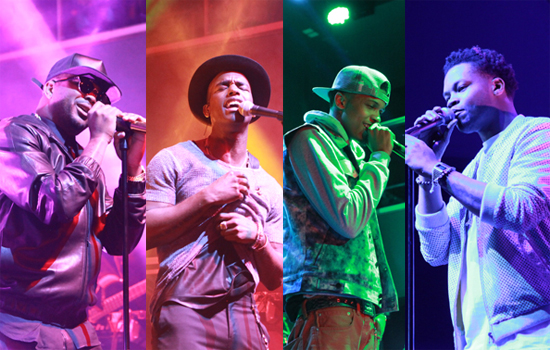 'Spotlight Live' aka R&B Live is finally back in New York. The event which has been sorely missed in the city has returned just in time to welcome the beloved genre back into the mainstream spotlight.  Tuesday night's show was a special invite only affair, presented by the Island Def Jam Music Group, which featured 4 of the labels acts, The-Dream, Luke James, August Alsina & BJ The Chicago Kid.
See our recap and peep our photos from the show below:

Motown's newcomer, BJ The Chicago Kid, opened the show as the house was already packed to capacity with a crowd of label, industry and radio professionals, all ready to drink, party and enjoy some quality live performances. The Chicago bred crooner treated the audience to his brand of heartfelt soul, including his sex-themed, retro styled single "Good Luv'n."
As a great warm-up, the energy then shifted to a edgier sound and vibe, as Def Jam's newest street singer August Alsina hit the Spotlight stage. The 20-year old New Orleans native delved right in with cuts off his previous mixtapes such as "Project Chicks," and fan favorite remakes such as "Bandz." He had the whole venue in attention when he stopped the music and pointed out radio personality Angela Yee in the front row, and started the cut over devoting the song to her. At one point he jumped off stage and performed at her table as he held her hand, and those next to her made the showering money hand motion. August also let the audience know how he chooses to live his life with current single "I Love This Ish" that features another fellow Def Jam newcomer, ATL rapper Trinidad James.
Luke James was up next, and for those in the audience that hadn't seen the rising star perform live before, were in for a special treat. James has perfected his performances to an utterly showstopping, roof raising spectacle of emotions and soaring vocals. As he ran through tracks off his last mixtape Whispers In The Dark, he continued to lose pieces of clothing, until he was down to his signature black leather tank. He had the woman screaming over recent song "Make Love To Me," new single "I.O.U." and of course, totally shut it down once again with his now classic debut song, "I Want You."
As the crowd was pleasantly intoxicated at this point, platinum hitmaker and headliner The-Dream hit the stage. With a long catalog of hits, anthems, and fan favorites the singer/songwriter/producer had the building partying and singing along to every word.  He ran through cuts such as "Dope Bitch," "Fast Car," "Falsetto," and "Rockin That Shit," among many others. The only thing that was missing was his latest single "Slow It Down" which was an odd omission. Dream is prepping for the release of his fourth album IV Play, due May 28.
Peep our exclusive photos below: