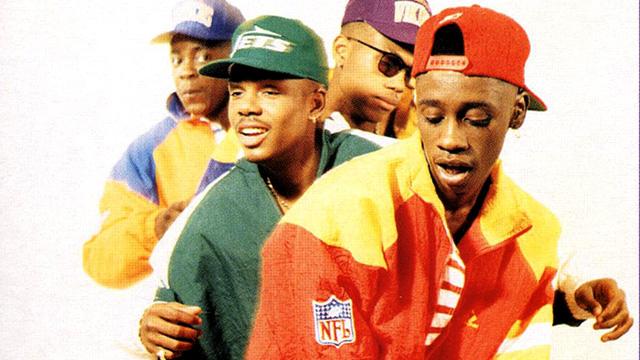 As time passes on it's safe to say that the 1990's continues to be one of the most beloved decades of music. One that many cherish as their favorite era for all the legendary recordings and styles that were created throughout those years.
Some can argue that nothing was bigger than R&B though. As we so often do, it's great to go back and listen to our favorite records from those years, and we were excited by the recent list released by AllMusic.com. The music reference website has a series of playlists where they compile and rank the 40 biggest songs of a single year from the '90s. This past Friday, they released their tribute to the best R&B records from 1991, a very special year with some massive debuts from legendary acts including Mint Condition, Boyz II Men and R. Kelly.
If you are older enough to remember these records, enjoy and reminisce, but if you are younger and are looking to hear something you missed, this is a great way to catch up on much of the classic '90s cuts. Check it out below, and enjoy!
No major shifts occurred in 1991, a year in which over 330 R&B singles entered Billboard's Hot R&B Singles chart. The same songwriting and production teams who colored 1990 remained present. Jimmy Jam and Terry Lewis dominated. Those two had something to do with seven songs on this 100% subjective playlist of '91 favorites: numbers one, four, ten, 11, 29, 32, and 35. That's not to say there wasn't variety. The distinct differences between the brilliant top seven form a solid case for '91 as one of the decade's best years.

There were several debuts of significance, including one from the band of Minnesotans at number one. Mint Condition swiftly went from local to global with a singular, fully realized sound after humble beginnings as Prince clones, and they're still going strong in 2013. The Brand New Heavies, presumably armed with a well-worn copy of James Mason's obscure 1977 jazz-funk masterpiece Rhythm of Life, are still kicking, as are Boyz II Men and, most prominently, R. Kelly. Who knew back then, when Jodeci were a bigger new deal, that Kelly would become the more enduring and provocative hitmaker?

This playlist features what will likely be the least successful number two of any covered year. Jeff Redd's "You Called and Told Me" failed to crack the Top 60 but is a top-tier new jack swing anthem, a Dave "Jam" Hall-produced cult classic from the Strictly Business soundtrack. Also on that Uptown release: Mary J. Blige, who sang backup for Redd and signed to Uptown through him. We heard much more from the future Queen of Hip-Hop Soul — as well as soundtracks — the following year.

1. Mint Condition – "Breakin' My Heart" [Perspective, 11/2]
2. Jeff Redd – "You Called and Told Me" [Uptown, 11/9]
3. Tony! Toni! Toné! – "Whatever You Want" [Wing, 3/2]
4. Sounds of Blackness – "Optimistic" [Perspective, 5/25]
5. Gerald Levert – "Private Line" [EastWest, 10/12]
6. The Brand New Heavies – "Stay This Way" [Delicious Vinyl, 11/2]
7. Jodeci – "Forever My Lady" [Uptown, 8/17]
8. Guy – "Let's Chill" [MCA, 2/23]
9. Christopher Williams – "I'm Dreamin'" [Giant, 2/23]
10. Karyn White – "Romantic" [Warner, 8/17]

11. Alexander O'Neal – "All True Man" [Tabu, 1/26]
12. Hi-Five – "I Like the Way (The Kissing Game)" [Jive, 1/19]
13. Jodeci – "Stay" [Uptown, 12/7]
14. The Brand New Heavies – "Never Stop" [Delicious Vinyl, 6/29]
15. Lisa Lisa & Cult Jam – "Let the Beat Hit 'Em" [Columbia, 6/22]
16. Ce Ce Peniston – "Finally" [A&M, 11/9]
17. Fourplay – "After the Dance" [Warner, 10/5]
18. Guy – "Let's Stay Together" [MCA, 11/30]
19. R. Kelly & Public Announcement – "She's Got That Vibe" [Jive, 11/16]
20. Levert – "Baby I'm Ready" [Atlantic, 4/27]

21. Prince & the New Power Generation – "Insatiable" [Paisley Park, 11/16]
22. Mariah Carey – "Someday" [Columbia, 1/12]
23. Prince & the New Power Generation – "Gett Off" [Paisley Park, 7/27]
24. Luther Vandross – "Power of Love/Love Power" [Epic, 4/27]
25. Boyz II Men – "Motownphilly" [Motown, 4/20]
26. Crystal Waters – "Gypsy Woman (She's Homeless)" [Mercury, 5/18]
27. Guy – "Do Me Right" [MCA, 5/4]
28. Mariah Carey – "Emotions" [Columbia, 8/31]
29. Ralph Tresvant – "Do What I Gotta Do" [MCA, 4/27]
30. En Vogue – "Don't Go" [Atlantic, 3/30]

31. Whitney Houston – "I Belong to You" [Arista, 11/16]
32. Johnny Gill – "Wrap My Body Tight" [Motown, 2/2]
33. Luther Vandross – "The Rush" [Epic, 11/9]
34. Special Generation – "Spark of Love" [Bust It, 2/16]
35. Sounds of Blackness – "The Pressure, Pt. 1" [Perspective, 9/21]
36. Vesta – "Special" [A&M, 6/15]
37. Jennifer Holliday – "Love Stories" [Arista, 12/14]
38. Bell Biv DeVoe – "Word to the Mutha!" [MCA, 8/31]
39. Mica Paris – "Contribution" [Island, 2/23]*
40. Basic Black – "What Ever It Takes" [Sound of New York, 2/16]*

*These songs are not available on Spotify in the U.S. Favorites 41-42 appear in their place, at the end of the playlist.
[AllMusic]