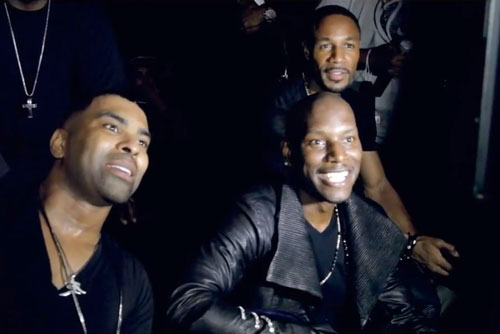 TGT (Tyrese, Ginuwine, Tank) released the brand new music video to their hot single "Sex Never Felt Better" on Thursday, and now you can take a look behind-the-scenes of the fun-filled video shoot.
The R&B vets held a mini concert at the Saban Theatre in Los Angeles to film the Matt Alonzo-directed visual, which features them performing the sexy song in front of a crowd of screaming female fans, and celebrating with champagne in a private VIP area.
As usual the fellas joke around none stop. Did you know Tank can still hit those high notes while eating salad? Check out the humorous footage below:
If you haven't seen it yet, watch the video here.
UPDATE: Added more behind the scenes footage and an on-set interview with TGT courtesy of the good folks at GoWhereHipHop. In the clip the fellas reveal how Tyrese came up with the hook for "Sex Never Felt Better," the "art imitates life" concept of the music video, and why they formed TGT. Check it out below.