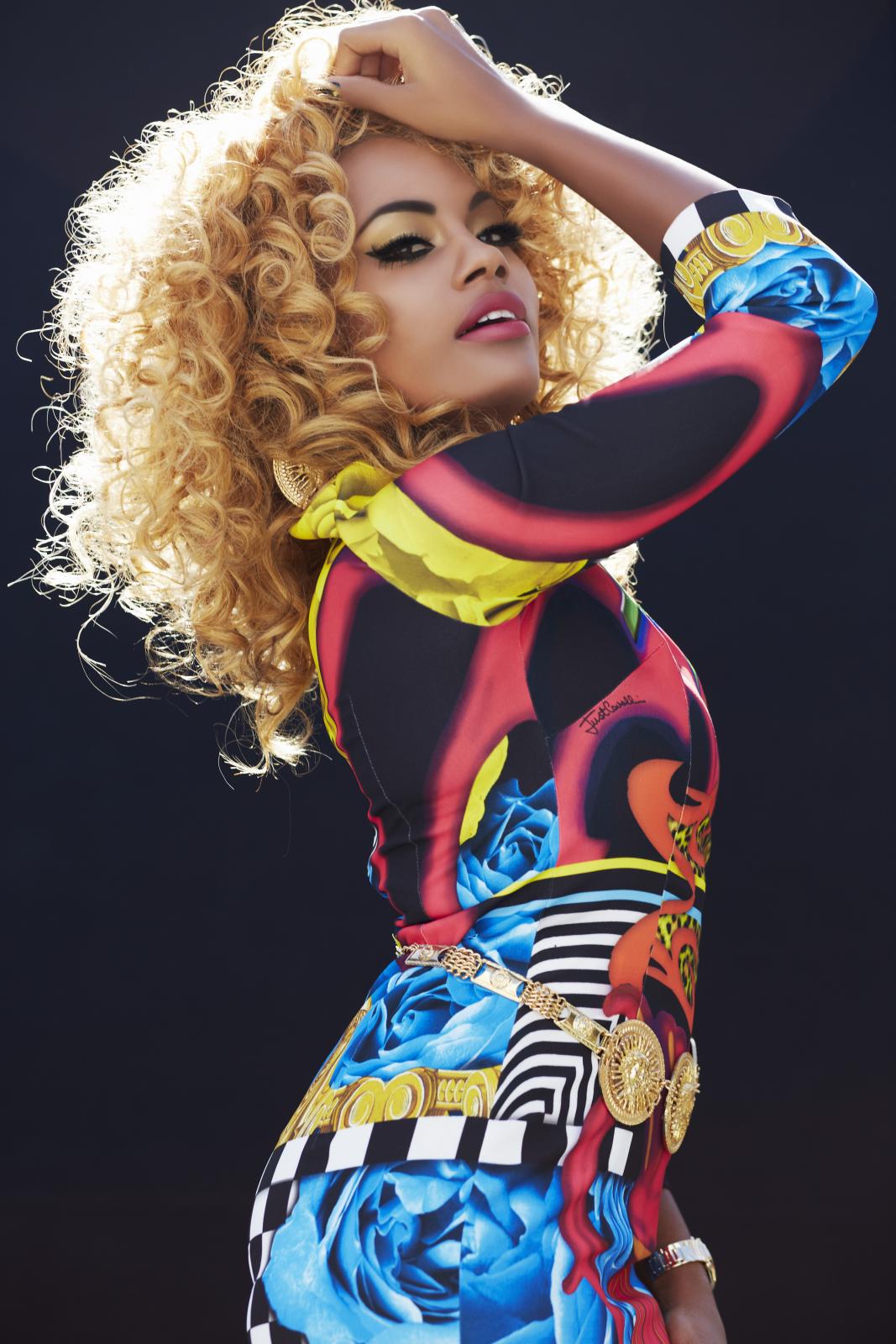 Having a distinct sound in the industry can either push you forward or keep you stagnant. Some individuals have those voices that work on tracks and can be embraced while others aren't so lucky. Cassie, for example, is one of those artists who has a particular sound that we sometimes love and sometimes hate. Then there are talents like Usher, Mariah, The-Dream, Mary J. Blige and Toni Braxton who all have their own sound that we take to very well.
More recent, we were introduced to a young woman with a sound all in her own. A woman who has a big voice, big hair and amazing style. Treasure Davis, the newest talent to emerge from Bystorm/RCA, has been taking the world by storm with her new Slick Rick sampled debut, "Someone New".
Planning to release her debut album later this year, Treasure has got us all wondering what she'll do next. Giving us a sound reminiscent of a young Audrey Hepburn or Lucille Ball, she definitely delivers a sense of longevity in the game. ThisisRnB recently caught up with the busy songstress to discuss her forthcoming album, influences, what she would be doing if she weren't singing, and what fans should expect from this well-anticipated album.
Check out the interview below:
How long have you been signed to RCA?
It's probably been about a year now.
What basically made you steer towards signing with them opposed to any other label?
Because they got it. My initial meeting was that they really appreciated art, they appreciated good music and they were supportive of making good music opposed to following a format or a formula. The interest and enthusiasm was organic. It was sincere and that really spoke to me.
I noticed that you dropped the new video for "Someone New". It's really dope and I love it. What was your thought process behind putting this video together?
Oh man! So, a lot of times when I'm writing and/or recording a song, I will get visions. Like, I know that it's great or it's dope if I see a movie in my head. So, basically, it was just about bringing the movie in my head and all the little cartoons and colors to life. I just really wanted it to follow the feel and the vibe of the song. You know, just fun, free and colorful and the fact that I love Lucille Ball and her character and her animation is a big influence on just my life really. So just incorporating all of those different things and allowing people to get a sense of Treasure.
When you created the song, did you have any idea that it would be as well received as it is now? 
Um, I don't know [laughs]. I don't even know if that thought really crossed my mind. It was just about catching the wave and catching the vibe that felt great to me and at the end of the day, I can only hope that what I feel and what feels great to me – what's true and sincere to me – that other people will feel the same way about it.
Sure. So, when you created the song, were you going through a situation where you were trying to find someone new or was it something that you just created?
[Laughs] Yeahhhhh. I mean um – I was just at a transitional point. I feel like maybe everybody's kind of been there. Where you're in a situation that you know you shouldn't be, but familiarity and comfortability makes you stay even though you know it ain't right. So, I feel that it's definitely – all of these words, all of these melodies – are coming from a true place.
Some of your influences range from Marvin Gaye to Cyndi Lauper. How did each one of these great artists play a part into you building up to your sound now and where you are musically?

Oh man. It's been more and more solidified when I say that Marvin Gaye's probably one of my favorite artists of all time. Everything he did and said was sincere and you felt it and knew that it was true. It wasn't all about showing off, it was about conveying what was in his heart and in his spirit and that really speaks to me. It's really been influential in what I'm trying to do with just creating a sound. You know, just coming from a really sincere and true place – everything is genuine. As far as Cyndi Lauper, I think she represents a sense of freedom. Just to be free and enjoy the music, enjoy the vibe and the energy and just living in the moment, you know? I mean there are a few other people in between that I draw from like Karen Clark Sheard. You know, I grew up listening to gospel so the way that she plays her notes and the way that she colors certain words and melodies is definitely something that I used to practice and try to emulate growing up. So they all just kind of fly in the pot and I just stir them up and then I sing on the song and you get the outcome of that [laughs].
[Laughs] Totally. Prior to becoming this up and coming phenom that you are, what were you busy doing?

I think I've probably always been doing something music related. For a while, I was studying Psychology and I was taking acting classes, but at the same time, I was being introduced to music in the sense of recording and writing. Like, I've sang at church and at home, but I didn't know that it would become as flushed out as it has been. I was just always writing and singing on my own, but prior to coming and joining the Bystorm [Entertainment]/RCA family, I was in the studio doing a lot of writing. Writing with artists, writing for other artists – just staying writing because I enjoyed it. From singing with a couple of people – you know, Kelly Price, Keri Hilson, Keyshia Cole and a few people – I got in a few sessions writing for Chris Brown and a couple [of] other Interscope artists. Just always staying the art realm and world – just doing something artistic.
If you weren't signing right now, what do you think you'd be doing?
I would honestly probably be doing something with children. I love kids. I love their innocence and it's a really big part of my heart in some way, shape, fashion or form. My heart is really with inner-city youth. It's really with kids that don't have opportunities or don't have encouragement because of home-life situations. [They] Just don't have the opportunity to expose themselves or explore their talent. I would probably be doing something with kids – I love kids.
What motivates you to basically get up and "go to work" every morning? 
Honestly, just the simple fact that I'm able to wake up and breathe and do exactly what I love to do, I know it's a blessing. My mom always said 'make haste while the sun is shining,' so I just want to leave here empty. I want to leave here having given everything that I was given to give. Every day is just another opportunity for me to give more and to share more of what God has given me.
Amen to that! If you could work with anyone in the industry on your upcoming album, who would it be? 
[Laughs] Oh man, do I have to pick just one?
[Laughs] No, of course not. You can pick many.
[Laughs] I'm a really big fan of Andre 3000 and Kanye West. I love their artistic freedom. I love the fact that they just genuinely create without boundaries. I love their expression – I just love it. Those are the first two that come to mind.
If you could collab with any R&B artist out right now, who would it be?
Mmm. Miguel! I love Miguel! I think he's awesome. Even just aside from the world accolades. You know I feel that okay, now the world is in on the secret – well, not secret, but you get what I mean [laughs]. I think he's an incredible artist and not just in the sense of "Hi, I'm a music artist", but he creates. I'm a huge fan. You know, you give respect where respect is due. I think he's incredible.
I definitely agree – he's a very talented man. With the new album and your talent being anticipated, can you give us a release date or when we should be expecting it?

I think we're still working on a release date.
And it doesn't have a title, correct?
No, not yet [laughs]
[Laughs] Are you able to tell us who's on the album?
I don't think I'm able to say just yet [laughs]
OK, OK [laughs] Who would you say that people have compared you to the most?
That's an interesting question. Vocally, I usually get Diana Ross, Minnie Riperton or Deniece Williams because they all had really distinct tones. But, probably Diana Ross – especially with some of my favorite records I've recorded. There's a hint of Diana in there.
Do you know what your follow-up single will be yet?
We're talking about it. I'm not 100% certain.
How wold you compare your sound to previous and current day R&B acts?
That's an interesting question. Just because I don't really think I pay attention to it when I'm creating – as far as making comparisons to what I'm doing. I just like to create whatever feels good at the moment. I feel like at this particular point since I've drawn so many influences from so many different places – I listen to a lot of alternative music, I listen to a lot of Motown, a lot of gospel, a lot of old school R&B – all of those have influences and are pretty influential in what I'm doing. It's kind of like something to draw from instead of imitating what's already been done.
What do you want listeners to be able to take away from your album?
I just really want you to be able to take a journey. To lose yourself in the music. I like to think that I'm making sonic movies. Like everything in itself is a movie. For you to be able to completely lose yourself and be completely engulfed by the song or to be able to either possibly learn from my mistakes or learn from what I'm sharing. I just want it to be impactful and encouraging as well. I mean that's the heart of it. I hope that my sincerity and my honesty can be something that people can dive into.
Interview by Ni'Kesia Pannell