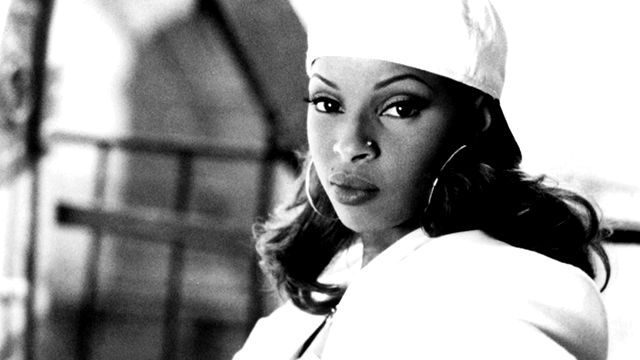 As time passes on it's safe to say that the 1990′s continues to be one of the most beloved decades of music. One that many cherish as their favorite era for all the legendary recordings and styles that were created throughout those years.
Some can argue that nothing was bigger than R&B though. As we so often do, it's great to go back and listen to our favorite records from those years, and we are once again excited by the recent list released by AllMusic.com. The music reference website has a series of playlists where they compile and rank the 40 biggest songs of a single year from the '90s. They have released their tribute to the best R&B records from 1992, a very special year with some massive debuts from legendary acts including TLC, SWV and Mary J. Blige.
If you are old enough to remember these records, enjoy and reminisce, but if you are younger and are looking to hear something you missed, this is a great way to catch up on much of the classic '90s cuts. Check it out below, and enjoy!
The year began pleasantly and tastefully enough. Veterans Michael Jackson and Glenn Jones delivered standout singles in January, but then TLC hit the following month with their upfront "Ain't 2 Proud 2 Beg," a party anthem as sonically aggressive as some of Dallas Austin's previous smash productions, yet it brandished pop appeal and shock value like nothing else from the era. Three months later, there was another momentous arrival: the Uptown label's Mary J. Blige. Her first charting single as a solo artist, the Strictly Business soundtrack's "You Remind Me," didn't kick down the door — that wasn't the intent — but it did reach number one, as did the follow-up "Real Love." The Queen of Hip-Hop Soul, along with that brash ATL trio, swiftly became two of the decade's biggest acts.

It was a big year for R&B-driven soundtracks. Juice was responsible for two of the bigger hits of late winter and early spring, as Aaron Hall's "Don't Be Afraid" (produced by Bomb Squad members Hank Shocklee and Gary G-Wiz) was succeeded by fellow Guy member Teddy Riley's "Is It Good to You." The Jam & Lewis-produced Mo' Money brought numbers 23 and 30, while Boomerang brought number 26 (as well as a certain Boyz II Men ballad, not number 27, that was unavoidable for months). None of those soundtracks, as successful as they were, did nearly as well as The Bodyguard — unrepresented in this completely subjective list — which came along in November and became the biggest-selling soundtrack of all time.

During 1992, over 330 R&B singles made Billboard's Hot R&B Singles chart. All of the favorites below — the mellow madness of "Games" especially — should still be heard regularly on radio.

1. Mary J. Blige – "Real Love" [Uptown, 8/8]
2. Aaron Hall – "Don't Be Afraid" [Soul, 2/22]
3. Chuckii Booker – "Games" [Atlantic, 9/5]
4. TLC – "Ain't 2 Proud 2 Beg" [LaFace, 2/8]
5. En Vogue – "My Lovin'" [EastWest, 3/28]
6. Jodeci – "Come and Talk to Me" [Uptown, 3/21]
7. TLC – "Baby-Baby-Baby" [LaFace, 6/13]
8. Michael Jackson – "Remember the Time" [Epic, 1/25]
9. Mary J. Blige – "Reminisce" [Uptown, 11/14]
10. TLC – "What About Your Friends" [LaFace, 9/19]

11. Prince & the New Power Generation – "Money Don't Matter 2 Night" [Paisley Park, 4/11]
12. Keith Washington – "When You Love Somebody" [Qwest, 2/15]
13. SWV – "Right Here" [RCA, 9/26]
14. Bell Biv DeVoe – "Gangsta" [MCA, 11/14]
15. Miki Howard – "Ain't Nobody Like You" [Giant, 8/22]
16. Prince & the New Power Generation – "Sexy M.F." [Paisley Park, 7/25]
17. Mariah Carey – "Make It Happen" [Columbia, 2/29]
18. Sade – "No Ordinary Love" [Epic, 10/24]
19. Tevin Campbell – "Goodbye" [Qwest, 2/22]
20. Mary J. Blige – "You Remind Me" [Uptown, 5/2]

21. Jade – "Don't Walk Away" [Giant, 11/14]
22. Teddy Riley f/ Tammy Lucas – "Is It Good to You" [Soul, 4/25]
23. Luther Vandross & Janet Jackson – "The Best Things in Life Are Free" [Perspective, 5/30]
24. R. Kelly & Public Announcement – "Slow Dance" [Jive, 7/25]
25. Tracie Spencer – "Love Me" [Capitol, 2/22]
26. P.M. Dawn – "I'd Die Without You" [Gee Street, 9/12]
27. Boyz II Men – "Please Don't Go" [Motown, 3/21]
28. Michael Jackson – "In the Closet" [Epic, 4/25]
29. En Vogue – "Giving Him Something He Can Feel" [EastWest, 6/13]
30. Ralph Tresvant – "Money Can't Buy You Love" [Perspective, 7/11]

31. Glenn Jones – "Here I Go Again" [Atlantic, 1/25]*
32. Al B. Sure! – "Right Now" [Atlantic, 8/22]*
33. Troop – "Sweet November" [Atlantic, 8/29]*
34. Ce Ce Peniston – "We Got a Love Thang" [A&M, 2/29]
35. Chante Moore – "Love's Taken Over" [Silas, 9/26]
36. Gerald Levert – "School Me" [EastWest, 4/11]
37. Rachelle Ferrell – "'Til You Come Back to Me" [Capitol, 9/5]
38. Chaka Khan – "Love You All My Lifetime" [Warner, 4/4]
39. Mint Condition – "Forever in Your Eyes" [Perspective, 4/18]
40. Jodeci – "I'm Still Waiting" [Uptown, 8/1]

*These songs are not available on Spotify in the U.S. Favorites 41-43 appear in their place, at the end of the playlist.