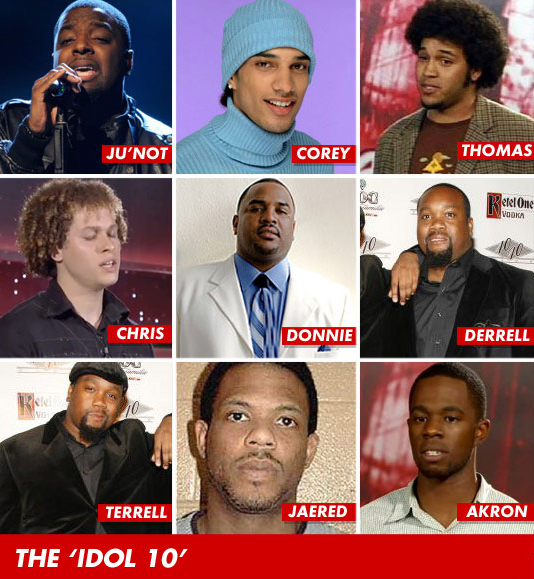 As the country continues to discuss and battle over the clear struggles of racism still in the year 2013, TMZ is reporting that 10 previous contestants on 'American Idol' have filed some serious lawsuits against the mega-successful TV talent show.
The former contestants have accused producers of conducting a "cruel and inhumane" scheme to exploit them for ratings by illegally digging up their arrest histories and using the records to humiliate them on national TV.
Ten black, former "American Idol" contestants from various seasons have filed a lawsuit against the show, claiming they were unjustly booted because of their race … and they EACH want $25 million … minimum.

The contestants — Corey Clark (Season 2), Jaered Andrews (Season 2), Jacob John Smalley (Season 2), Donnie Williams (Season 3), Terrell Brittenum (Season 5), Derrell Brittenum (Season 5), Thomas Daniels (Season 6), Akron Watson (Season 6), Ju'Not Joyner (Season 8), and Chris Golightly (Season 9).

The contestants' lawyer claims the show used the arrest info to make his clients appear to be "violent criminals, liars and sexual deviants" … when they weren't. In fact, none had ever even been convicted of the charges stemming from their arrests.

Worse, the lawyer claims ONLY black people were ever probed about their alleged criminal pasts … never white people.

Not only do the contestants feel they got the shaft, they claim their lives have been ruined by the show's racist portrayals.

The 10 are suing for discrimination and other alleged misdeeds. They also want Idol to adopt new anti-racism regulations.
Anyone that has watched the show over the years, might have had some feelings on the often bias opinions of the average "white" American viewers and the artists they will vote for, but last season saw it's first black winner, Candice Glover, since Season 6 with Jordin Sparks. The previous 5 seasons were all won by white guitar playing males.
What do you think of the 10 male contestants law suit. Do you think they have a case, or are they just looking for a hand-out?
[TMZ]