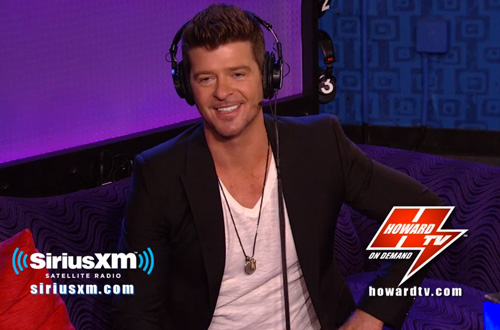 On the eve of his album release Robin Thicke paid a visit to SiriusXM's "The Howard Stern Show." The R&B crooner was cool and confident in the hot seat as he spoke to the shock jock about having Alan Thicke as his father, his weed habit ("It's my crutch"), and how his wife Paula Patton inspired "Blurred Lines."
"'Blurred Lines' has that she's a good girl, but she wants to be a bad girl. It's very much about my wife," said Thicke. "My wife is Mrs. Good Girl, but gradually over our marriage, I've turned her into a bad girl."
He alluded to their naughty sexual escapades. "We've done just about everything," he said.
But when asked if he's brought another woman into the bedroom, Thicke stopped short. "Out of respect for her, we just won't answer that one."
He doesn't expect to replicate the success of "Blurred Lines," which broke the record for highest radio audience ever recorded. "Not scared yet because I know that it can't possibly have this effect. Even if it's No. 1 and sells a bunch of records, it can't be the love story that this song has been where it's crossed all formats and broke these records."
In addition he brought his sexy backup dancers to perform his No. 1 hit in the studio.
[RU]