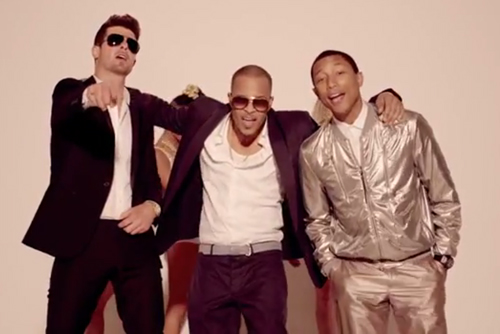 Robin Thicke's mega smash is titled "Blurred Lines" but the stats the song is putting up on the board are very clear. The funky Marvin Gaye inspired song continues its domination this summer, as it has broken the record for the highest radio audience ever recorded. As of this week, the track has reached more than 242.65 million listeners, breaking the previous record of 188.8 million. This achievement follows on the heels of the track breaking the record for biggest-single week downloads so far this year when it racked up more than 428,000 during the week ending June 23rd.
A bonafide phenomenon, "Blurred Lines" is No. 1 for a third week in a row at Pop Radio and for a fourth week in a row at the Rhythmic radio format. It has spent seven consecutive weeks at No. 1 on Billboard's Hot 100 (Thicke's first appearance atop the chart), surpassing Macklemore & Ryan Lewis' "Thrift Shop" for the longest stretch at No. 1 so far this year. The Pharrell-produced track has also reached No. 1 in 80 countries around the world. "Blurred Lines" has been certified 3x-platinum with more than 3.5 million in sales to date.
The song is the title track to Thicke's upcoming new album, which will be released by Star Trak/Interscope Records in the U.S. on July 30th.
Money, Money, Money!