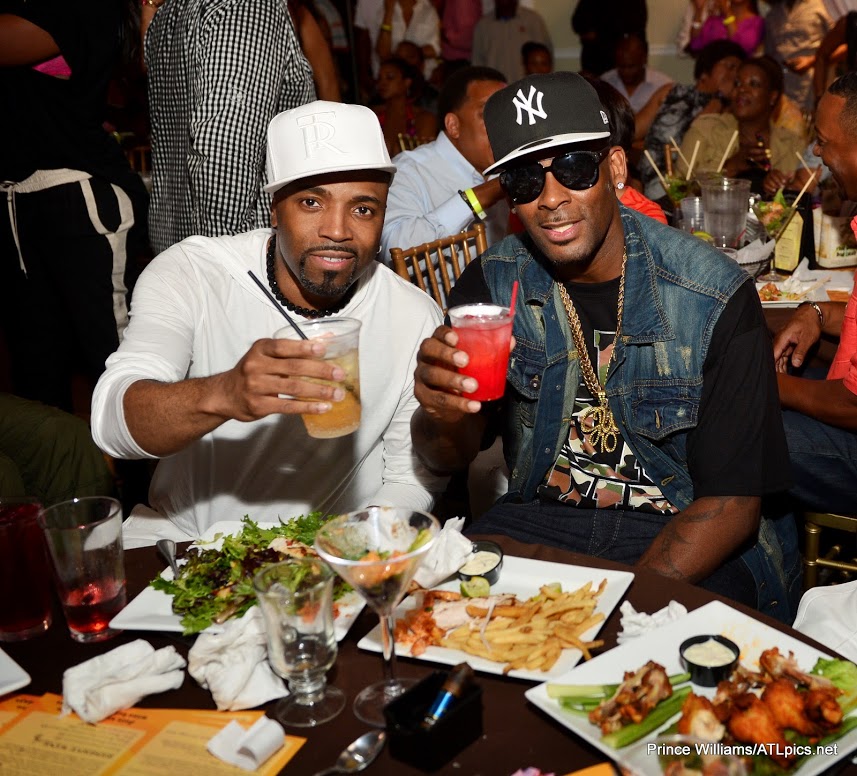 With a reputation known for bringing the hottest R&B acts back to the forefront and breaking the careers of new artists, Shanti Das and Marlon Nichols joined forces with Peter Thomas and Gregg Leakes of RHOA to produce the first-ever platinum edition of 'ATL Live on the Park.' Performances included Case, new jack swing artist Christopher Williams, King Shakes (Peter Thomas' son) and surprise performances from R. Kelly, Teddy Riley and Hip-Hop pioneer Greg Nice (of Nice 'n Smooth).

The show commenced with Peter Thomas introducing his son, "Fresher than You Music Group" artist King Shakes, performing his single, "Murda". Following this track, Shakes introduced "Broken Heart" featuring fellow label-mate Fynese. He concluded his performance with his 2nd single "Fast Life" off his upcoming mix-tape, "Never Burn Bridges".
R&B crooner, Case, took the stage next. The Grammy-nominated artist opened his performance with a slew of classics including "Happily Ever After" and "Missing You". Captivating the audience with classic hits, Case performed two covers from his favorite artists, Stevie Wonder's "Always" and Marvin Gay's "Sexual Healing". Before closing out his set, Case brought up to the stage a few stars that were in the audience enjoying the show with music mogul Devyne Stephens. First, with the biggest surprise performance of the night, was R&B King, R. Kelly who performed his #1 selling hit, "Step in the Name of Love". With the crowd on a complete musical high, Grammy-award winning singer/producer, Teddy Riley took stage to perform snippets of "New Jack Swing" and "RumpShaker". Just when you thought that was enough, Hip-Hop legend, Greg Nice of Nice 'n Smooth, ignited the stage with his set. From beat boxing, to performing his hit, "Hip Hop Junkies" to giving inspiration about life, Greg Nice delivered one of the most memorable 'old-skool' hip-hop performances ever held at ATL Live on the Park.
New Jack Swing pioneer, Christopher Williams, closed out the ATL Live stage with a killer performance. Williams opened with a powerful rendition of Marvin Sapp's "Never Would've Made It" taking us all the way to church, and the crowd to their knees. Next, he performed his 1989 hit single, "Promises, Promises". Williams continued to shine as he performed a beautiful cover of Luther Vandross' "Still in Love", a performance that had the audience captivated. Christopher concluded his set with his #1 smash hit from the New Jack City soundtrack, "I'm Dreamin".
Shanti Das and Marlon Nichols proved why this event is a sell-out every month. From celebrity appearances to surprise, impromptu performances by musical heavyweights, ATL Live on the Park is an Atlanta nightlife staple…continuing to deliver quality performances for every show. Shanti stated, "Having THIS caliber of talent on our stage tonight was a complete dream. We are honored to continue to bring Atlanta the best of the best in music!"
Lifestyle specialist Kenny Burns alongside of DJ Mars and the Teddy White Band continued to keep the crowd alive, while guests enjoyed a night-filled with top charting music.
(photos via Prince Williams of ATLPics.net)