It's a party! VIBE Magazine is celebrating their 20th anniversary this year, and who better to help them start the soiree than Robin Thicke and Janelle Monaé. With the subtitle "#NewRules of R&B" the funky performers grace the cover of the new Summer 2013 issue.
The magazine calls them 'ambassadors of the new R&B,' and over confetti and cocktails Thicke and Monaé discuss the perks of operating in a genre-less genre.
Follow the jump for excerpts from their joint chat and photos from their cover shoot: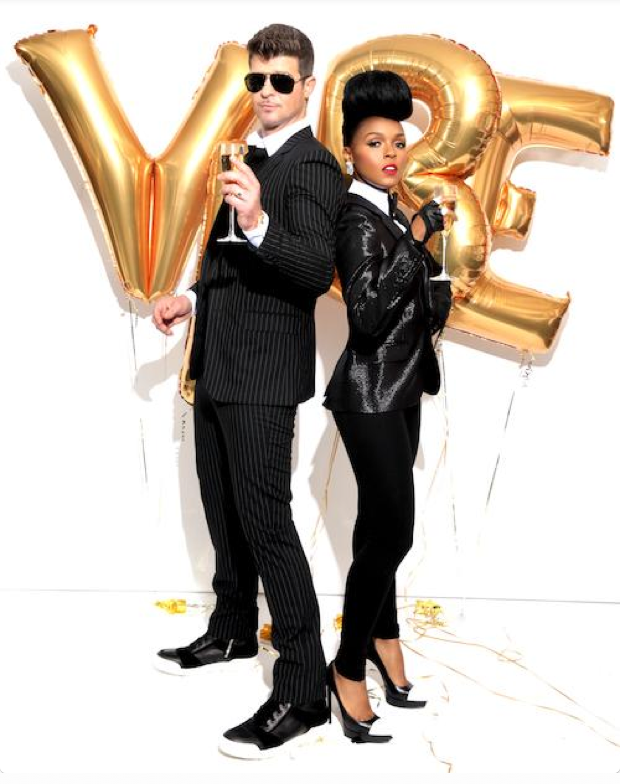 VIBE: How do you define your music?
ROBIN THICKE: I think what Janelle and I represent is boundaryless music. There is no one way to define her or what she does. And if you listen to my album, it's the same thing. Sometimes I'm rockin' out, sometimes it's soul, sometimes there's some bossa nova. Her and I are products of the generations of funk, soul, rock 'n' roll—and then hip-hop coming into the mix—all becoming what this new generation is. We don't want to be defined. We don't want to be pigeonholed.
JANELLE MONÁE: One of the things I always say is, 'Categorize me and I'll defy every label.' I think we just love great music. I think regardless, if Mick Jagger is doing it, or Stevie Wonder, or Prince, or somebody at church, that's the soul. I think that we both represent a very diverse palette for music.
THICKE: I can tell she's probably just like me—that as soon as somebody says, 'Oh, you're this.' She goes, 'Well, then let me show you what else I can do 'cause I'm not just one thing.'
MONÁE: It's about having fun.
THICKE: Well, not just that, but when you think about Stevie Wonder, or even Michael Jackson, you don't say, 'They're R&B singers.' You say, 'That's Stevie Wonder music. That's Prince music.'
MONÁE: They tried everything.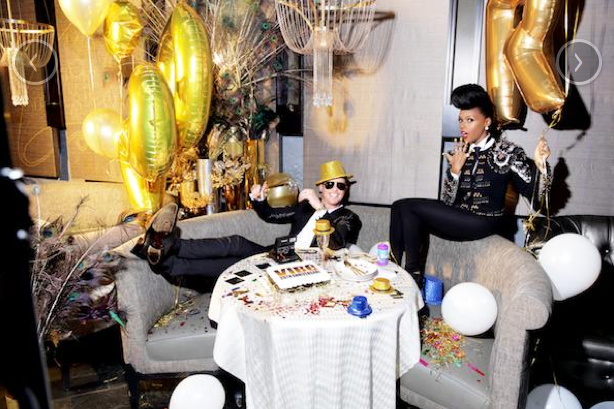 THICKE: I hope that after I make my 10, 20 albums people just go, 'That's Robin Thicke music. And when they hear Janelle, they know that's Janelle Monáe music.' That's what we both try to accomplish. Even "Blurred Lines," which is my greatest success…
MONÁE: That's the jam.
THICKE: Sounds a lot like my other music. I love all kinds of music, so I can't possibly just make one kind. I'll make a song called "Shakin' It 4 Daddy" with Nicki Minaj, and then a song that sounds like Jimi Hendrix that's all guitar and live music. Most of the music I've made is live band instrumentation, no drum machines.
MONÁE: Same with me. We just finished [recording with] the Chicago Symphony Orchestra and the San Francisco Symphony Orchestra, and then came back and rocked Coachella. I get very bored with the concept of marginalizing music and saying because I'm an African-American woman I [have to] stick to this genre. My iPod [has everything] from Judy Garland to James Brown to Prince to the Talking Heads. It just needs to be great and it needs to move me.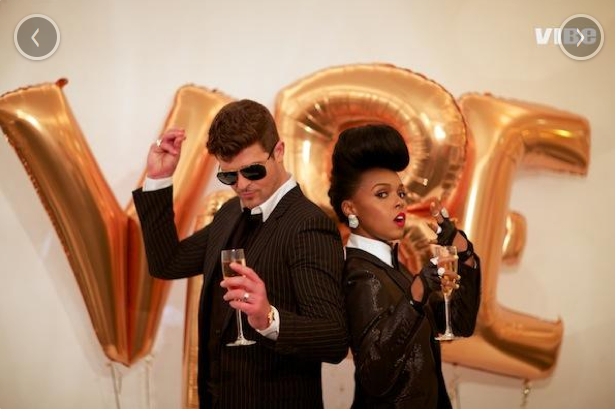 THICKE: In the history of American music, black radio and white radio were segregated. But once everybody had rights…
MONÁE: And could be on the cover of their album…
THICKE: And white people are on the cover of VIBE and black people on the cover of Rolling Stone, there are no more rules and that's how it should be. We shouldn't be judged by our color or one song that we made.
MONÁE: We should be judged by the jam. Is it jammin'?
THICKE: Music is exploding right now and always will, because it's not about the sound. It will always come down to the artist. What are they doing? What are they saying and how are they saying it?
MONÁE: And is it believable?
Read the full story here.