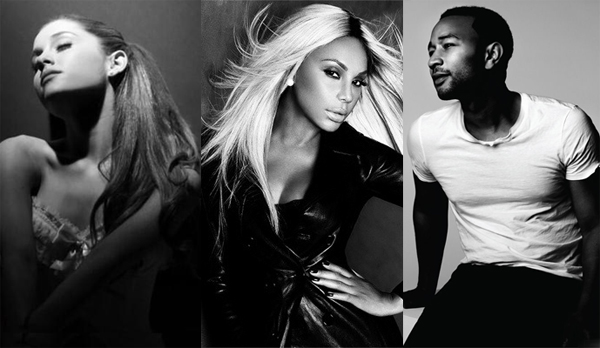 The numbers are in from last week's big R&B release week.  As expected America's new young sweetheart Ariana Grande landed the No. 1 spot on the Billboard 200 with her debut album 'Yours Truly.'
The Republic Records release shifted 138,000 copies according to industry resource HitsDailyDouble, fueled by a strong marketing campaign and her singles "The Way" and "Baby I."  Not far behind though, was Tamar Braxton with her anticipated sophomore album 'Love and War.'  The singer/reality TV star put up very strong #'s coming in around 114,000.
In addition to the ladies, we had three big male R&B releases as well, from John Legend with 'Love In The Future,' Jaheim's 'Appreciation Day' and Raheem DeVaughn's 'A Place Called Love Land.'
Legend led the three coming in at No. 5 on the chart with 68,000, while Jaheim was not too far behind, landing at No. 7 with 58,000. Out of all of them Raheem DeVaughn was the only independent release and he shifted 19,000.
While, there has been and will continue to be a bevy of R&B album releases this year, these #'s are not going to support the genre, and it's not a sign of lack of good material, each of these releases is very solid, and many are great bodies of work.  We are going to really need a renaissance of fans supporting albums again to keep the labels seeing a future in R&B artists.