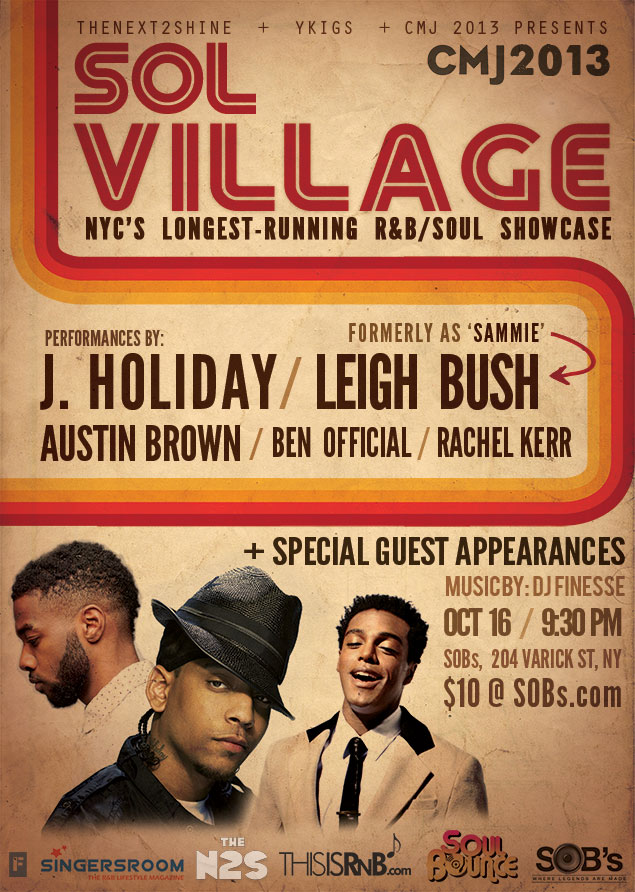 SOB's in NYC has been rockin for CMJ week, and 'Sol Village' made it's return on Wednesday night with a great show. The showcase, presented by our friends at TheNext2Shine and YouKnowIGotSoul, featured performances from J. Holiday, Sammie aka Leigh Bush, Austin Brown, Ben Official & Rachel Kerr.
Austin Brown got the energy kicked off right as he performed songs from his mixtape, Highway 85 and exuded every bit of confidence as he owned the stage with "Love Rollercoaster", "Highway To The Sky", and "Groove 92" among other tracks. Chicago's BenOfficial was all about paying homage to great music and a great city as he covered Drake's "Hold On, We're Going Home" and Tyrese's "Lately." He wrapped up his set with "I Wish Too," which pays tribute to Chicago as they remain strong in the recent violence that has plagued the Windy City. Rachel Kerr, hailing from the UK, was fearless from beginning to end as she wowed the crowd with her motivational "Just Getting Started" and "I Will Love Me" then wrapped up with "Hold My Hand" with everyone singing along as backup.
Leigh Bush, formerly known as Sammie, hit the stage and fulfilled every bit of the crowd's anticipation through the night as it was his debut at the longest running R&B showcase in NYC. On the heels of the release of his new EP, The Leigh Bush Project, Bush performed fan favorites from his past like "Come With Me", "Slowly" and even an acapella version of his first hit "I Like It." The set was wrapped up with "Free Falling", a fast favorite of those who have already purchased Bush's EP. Complete with a lucky young lady joining him onstage, "Free Falling" proves to be just as amazing live as it sounds on wax.
J. Holiday ended the musically eclectic night with a big return to the stage, complete with the announcement of his upcoming album entitled Guilty Conscience set for a December release. Holiday performed his comeback bedroom single "After We…," and had the audience hanging on his every word with his hits including "Suffocate," "I Miss You," and of course "Bed."
Check out our exclusive photos below:
Recap via N2S
Photos by Michael Mathias | @mrichardphoto