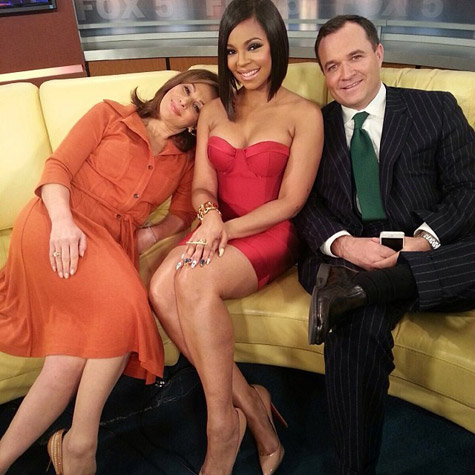 On the eve of Thanksgiving, Ashanti hung our with some of her fellow New Yorkers by making an appearance on "Good Day NY." Looking sexy in a red dress, the R&B songstress discussed her holiday plans and her Rick Ross-assisted single "I Got It," which hit iTunes on Tuesday.
Ashanti, who released her debut album in 2002, says the music business has changed drastically throughout the years. "Getting records out there is very different from my first album. Social network is completely different. You have to continue reinventing," she said.
She plays a store consultant named Teanna in the Lifetime holiday movie Christmas in the City, premiering December 7 at 8 p.m. "She is such a disgusting, mean, nasty, snooty woman, which is so completely different than me," Ashanti said of her character.
She also performed "Let It Snow," which is the lead song from the film. While she had a little trouble with the lyrics, she still pulled it off.
Watch Ashanti celebrate Christmas in the city below:
[RU]