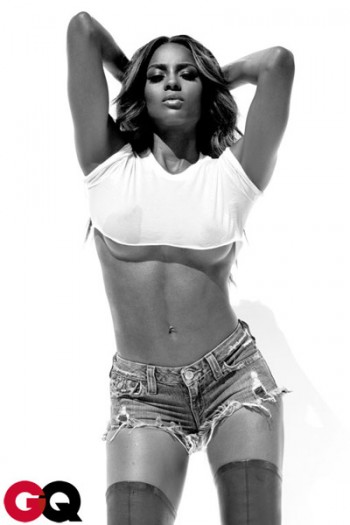 Ciara is clearly having one of the best years of her life right now! With a smash hit under her belt and a new engagement, the "Body Party" singer is turning up the heat a little more for fans.
Unveiling her hot body for the pages of GQ, the future Mrs. Cash has some pretty sexy shots inserted in there. Premiering in black-and-white, the provocative images – which were shot by Gomillion & Leupold – showcase the 28-year-old songstress working the camera like nobody's business. Flaunting some major under-boob and denim shorts in one and fishnet top with her hands censoring her breasts in another, Ciara makes it hard for one to not want to see her on the cover of every magazine.
When asked about her style advice for men, the "Goodies" singer said: "I love when people have their own creative vision, when a person stands out and tries different things. I also think less is more. A T-shirt and some Balmain jeans or even just simple jeans can still look nice—it can be powerful, too."
If it's one thing she happens to know, it's definitely style! Go 'head Cici!
Check out the rest of the pics after the jump!