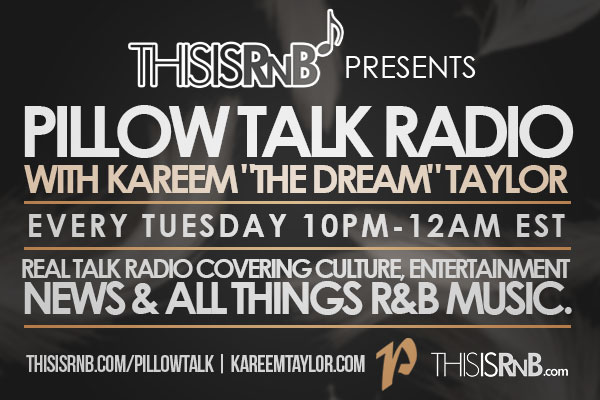 It's that time of the week where you can get your fix of that good R&B that you've been missing! You know we can only be talking about "Pillow Talk Radio" with Kareem Taylor!
If you missed the previous episodes or are unfamiliar with the broadcast, the two hour show – which airs Tuesday nights from 10 PM est – 12 AM – revitalizes the talk radio format with a youth appeal and covers everything from Entertainment News, Relationships, Health, Community & Family. In addition, the program includes popular segments; Lie Detector, Live Call-In Confessions and the newest addition, which honors every day people doing extraordinary things – Tuesday's Hero. The show caters to R&B fans by playing your favorite classics along with a mix of today's hottest songs, as well as a live interview from a popular or emerging R&B artist.
For mobile users, you can listen to the show live by using the free 'TuneIn' App, and going to this link http://tunein.com/radio/Pillow-Talk-with-Kareem-The-Dream-s135637 or searching Pillow Talk.
Tune in now below:
UPDATE: If you missed the live broadcast, catch the full show with the podcast stream below!